At a Glance
Expert's Rating
Pros
Compact size
Easy to use
Includes tripod and charging cable
Good wireless range
Solid battery life
Compatible with most common video software
Cons
Colors more washed out than iSight
Video suffers from lag
Video suffers from artifacts
Audio quality is middling
Our Verdict
Every Mac laptop, as well as the iMac desktop, includes a built-in iSight camera, capable of capturing both video and stills. So unless you've got a Mac mini or a Mac Pro, why, you might wonder, would you ever want to buy an external Webcam? Ecamm Network's $149 BT-1 throws one major compelling feature into the mix: it's the first Bluetooth Webcam to hit the market.
The BT-1 is a compact plastic box, black on the front and gray on the back. Measuring in at 2 inches wide by 2.5 inches tall by 0.63 inches thick, the BT-1 feels a bit like a bulky Zippo lighter. The lens is about the same size as that of Apple's iSight cameras and captures H.264-compressed video at a resolution of 640 by 480 pixels; a stereo microphone records sound at 48kHz. There's just one button, on the back of the camera, that serves to toggle power on and off. Also included in the package are a small telescoping tripod with a standard screw mount and a mini-USB-to-USB cable for charging the BT-1's internal battery.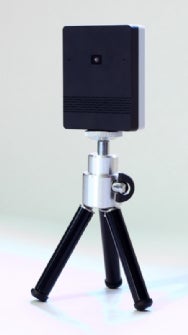 Since the BT-1 uses Bluetooth, it's compatible with any Mac produced in the past several years—it requires Mac OS X 10.5 (Leopard) or later, and Bluetooth 2.0 + EDR or better (current Macs include Bluetooth 2.1 + EDR). To set up the camera, you download the BT-1 software, which installs as a System Preferences pane and adds a BT-1 icon to your menu bar. The BT-1 preference pane lets you change the camera's name and Bluetooth passcode, as well as preview video and audio streaming from the device. The preference pane also lets you manage multiple BT-1 units, assigning each a different name.
Using the BT-1 is simple. After you install the software, you'll have to pair the camera with your machine, which is accomplished simply by pressing the Plus button in the BT-1's preference pane and turning on the camera. You'll be prompted to enter a security code (0000, by default) and then you're good to go.
I tested the BT-1 by using is as a camera for iChat, iMovie, Photo Booth, and Skype, and it worked seamlessly with each of them. How to choose the BT-1 as your camera differs from program to program, but there's usually a drop-down menu in the program's preferences for picking which camera to use (Photo Booth provides a Cameras menu in the menu bar, instead).
The BT-1's major advantage, of course, is that it's wireless. In my tests, this wireless feature worked like a charm: Ecamm claims you can stream video up to 30 feet from your computer; the camera actually worked for me from a little farther away if there were no walls or other major obstructions in the way. This is ideal for subjects that can be difficult to capture using a built-in iSight; for example, showing off the kid's first steps to the grandparents, or recording your cat doing something silly. Instead of bringing your subject to your MacBook or iMac, you can bring the BT-1 to your subject.
Ecamm claims the BT-1's internal battery lasts for up to four hours of continuous use, though I never had the opportunity to use the BT-1 continuously for that long; it handled one-hour chat sessions without problems. Recharging is fairly quick and can be done via a USB port on your computer or a USB power adapter (Ecamm doesn't sell such an adapter, but you should be able to use any one; many people already have one for an iPhone or iPod).
The real questions for many readers will be about performance. In my testing, the camera's video was pretty good, though not, to my eyes, as good as that from my 2008 aluminum MacBook's internal iSight camera. I saw more compression artifacts in the BT-1's video, especially in dim light, and its colors seemed more washed out than the iSight's.
More problematic in some circumstances is the camera's latency; there's a signficant lag between when you do something and when you see it on camera. This is most obvious when you're pulling audio from a different input source—say, your Mac's internal mic or a USB microphone—in which case the audio and video don't line up. According to Ecamm, this isn't a problem specific to the BT-1 but rather a limitation of the wireless nature of the product.
People I chatted with online in both Skype and iChat found the sound and video of the BT-1 adequate, but preferred the MacBook's internal iSight in a side-by-side test. I also found that I couldn't get the BT-1 to work with Gmail's video chat feature.
Macworld's buying advice
For most people, the built-in iSight on a MacBook or iMac is probably sufficient for video chatting or recording clips for YouTube. But the BT-1 is a reasonable alternative to buying a wired camera for those who don't have an included Webcam—Mac Pro and Mac mini users, for example—and a handy solution for those who want the ability to roam and record (within 30 feet, of course).