If you've ever wanted to create those cool black-and-white photographs with part of the image in vibrant color, then ColorMagic from Molinker is just the app for you. Like the well-regarded ColorSplash, ColorMagic simplifies the process of selectively erasing the color from images to turn an ordinary photo into a work of art.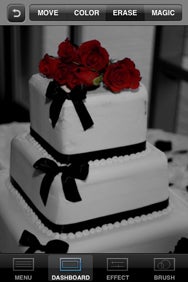 When you first start ColorMagic, the app asks if you would like to use a picture from your photo library or take a new one (assuming you're using the app on an iPhone). Once you've selected a photo, it's time to edit it.
The bottom of the app screen features four buttons—Menu, Dashboard, Effect, and Brush. Menu allows you to take or load a new picture as well as save or send your image via e-mail.
The Dashboard button brings up the main tools you use to create your masterpiece. You can use an adjustable size brush with either the Color or Erase tools. The Erase tool desaturates any part of the photograph you paint over, making it black and white. If you accidentally desaturate a part of the photo you wanted to remain in color, you can just paint the color back in using the Color tool. Use the standard pinch gestures for zooming in to perform precise work around the edges of your subject.
To make things even easier, there's a Magic tool that will automatically select part of the image and remove the color from it like the Magic Wand tool in Photoshop. To use it you just drag a finger over the part of the image you want to desaturate. This type of editing takes a lot of processing power so there was usually a delay of a few seconds between dragging my finger and the final outcome. The Magic tool is quite impressive and worked really well as long as the image's background wasn't too complicated or too close in color to the subject. ColorMagic also has an undo button that will allow you to undo up to two actions in case you make a mistake.
The Effect button brings up options to adjust your photo's brightness and contrast to get it looking just right. There's also a shrink tool that will make the Magic tool's selection either bigger or smaller.
ColorMagic has a simple and intuitive interface that makes using it fun and easy. There's even a tutorial video you can watch to learn how to use its features. ColorMagic works like a charm and makes it possible for anyone to create awesome selectively desaturated pictures in minutes.
[Tim Mercer is a technology enthusiast, graphic designer, and blogger, whose blog, digital-artist-toolbox.com, offers free resources to the digital artist and graphic designer.]