It's the time of year when creative projects are blossoming in our heads—holiday cards, letters, invitations, slide shows, and even videos. While you may already have some fonts on your Mac that would be suitable for holiday projects, you'll be missing out on some phenomenal creative opportunities if you don't have a look at the affordable—sometimes free—options now available from font designers.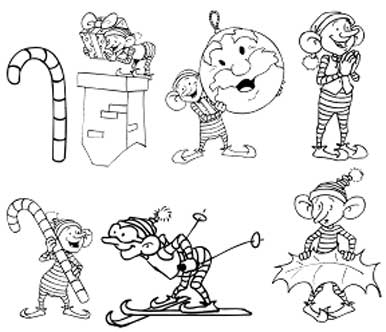 One of the best overall sources for holiday fonts from multiple foundries is MyFonts.com. A simple search for "holiday" turned up 113 fonts, including picture fonts and text fonts suitable for holiday greetings. One thing I like about this intelligent Website is that next to each font is an example of the font in use. In fact, you can click the Gallery view option to see all the fonts in creative example form. Click through to see expanded examples. The Related Tags list in the right-hand column gives you ideas for additional searches. As you find fonts you think you like, you can add them to your own "album" for future consideration.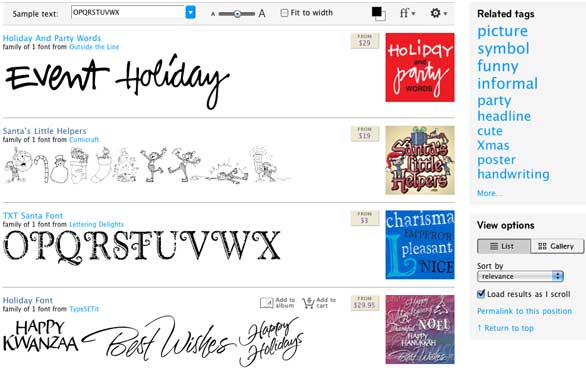 One of my favorites is Holiday ROB, by former Hallmark letterer Rob Leuschke. Among its glyphs are professional hand-lettered words and phrases you may find on commercial cards for autumn and winter holidays. For an instantly professional appearance, look no further than this $30 font.
Another of my new favorites is Ice Flowers, by Kapitza. The inspiration behind this $59 picture font is the beauty of snow crystals and the interplay between their unique designs.
If you're looking for something whimsical, try Santa's Little Helpers ($19), by Comicraft.
Many font foundries offer discounted collections of holiday fonts at lower prices than if you'd bought them separately while many others offer lovely and affordable fonts. For example, Fonts.com has Monotype's Holidays and Special Occasions Value Pack for $78. FontCraft's $59 Holiday Fonts & Art CD includes several unique fonts and lots of holiday art. And while their prices are low, there's plenty to choose from for a quick card or Web greeting: Linotype has a variety of $5 fonts; and Font Marketplace has an impressive assortment of script fonts and other wintery fonts for $5.
But you don't have to spend any money at all to find some good holiday fonts. One very cool free collection I've seen is at Fonts & Things. Be sure to check out both pages of their Christmas Fonts. (But be careful how you use them: some free fonts are free only for personal use, not for commercial use. In other words, you can use them for your invitations and holiday letters, but not for advertisements or other mass-produced items.)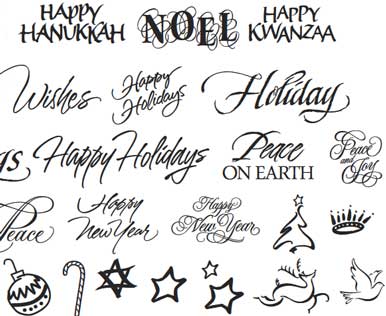 In any design project, your choice of typeface sets the tone of the piece, and the expectation of the viewer. Holiday projects can be especially fun for exploring your creativity and showcasing the inspiration of font designers and illustrators. Happy holidays!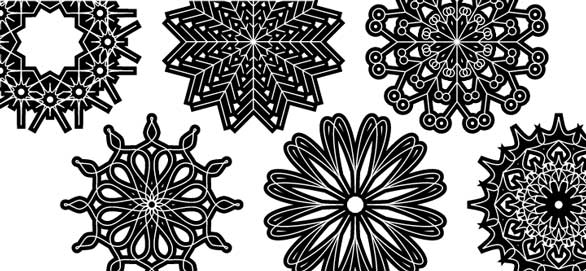 [Jay J. Nelson is the editor and publisher of Design Tools Monthly, an executive summary of graphic design news.]