At a Glance
Expert's Rating
Our Verdict
I seem to spend an inordinate amount of time trying to access data and media hosted on a machine that I'm not near—I use Dropbox, LogMeIn, Timbuktu Pro, and Back to My Mac. But now I must add one more tool to my arsenal: Yazsoft's ShareTool. ShareTool lets you securely share, over the Internet, all the services on a particular computer, as well as all the services that computer can reach on its local network.
To make this trick work, Yazsoft relies on—and extends—Bonjour, Apple's protocol for "advertising" a device's services over a local network. Such services include OS X's own printing, screen sharing, iTunes Sharing, and iPhoto Sharing, as well as third-party services from sources as varied as Skype and BusyCal—if software advertises its services using Bonjour, ShareTool can make them available over the Internet. (More accurately, ShareTool makes the computer attempting to access content and services appear as if it's actually on the same local network with the computer providing the content and services.)
You need at least two copies of ShareTool: one installed on the computer providing access to services and local resources, and one copy on each remote computer from which you want to access those services and resources.
On the computer sharing resources, you launch ShareTool and click the Share button. ShareTool automatically opens a port—a kind of individually numbered door—attached to the router's IP address to allow outside access. You can choose to limit which services to offer, or to offer up everything.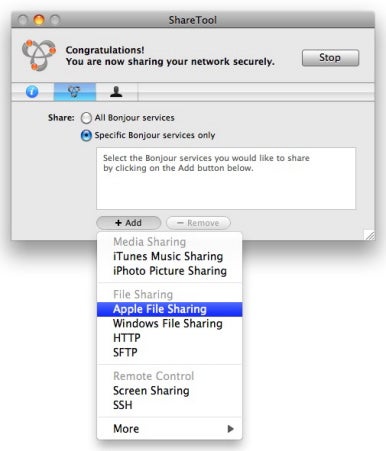 (Like other remote-access services, including Back to My Mac, your router must have a publicly reachable IP address. Ideally, it will also use NAT-PMP or UPnP to open up access to the outside world, although you can manually configure access using instructions in ShareTool's manual and on the Yazsoft Website. For more about NAT-PMP and UPnP, see Troubleshooting Back to My Mac.)
ShareTool on the sharing computer displays the router's publicly reachable IP address and the ShareTool port. You can click a button to create an email message with the connection details, or configure ShareTool to email you automatically every time settings change, including whenever sharing is enabled. If you'd prefer a hostname rather than an IP address, an option in ShareTool lets you enable dynamic DNS via one of three major DDNS services; ShareTool will automatically pair your desired hostname—for example, glennsremote.homeip.net—with the router's IP address.
On a remote computer, you launch ShareTool, click the Connect button, and then enter the host computer's IP address or hostname along with the port number; recent connections are remembered and can be chosen from a pop-up menu. Click Continue and enter a valid Mac OS X user name and password for the sharing computer. (ShareTool uses SSH for encrypting the connection between the two computers; the account you enter here is used to start the required SSH session. Note that to use ShareTool, you must enable, in the host computer's Sharing pane of System Preferences, the Remote Access option, which activates SSH.) A ShareTool window shows which remote services are available by default; you can configure ShareTool to make more available.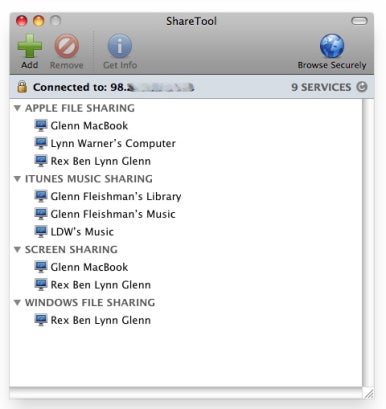 If you use Firefox, ShareTool also provides a neat option for secure browsing: It automatically configures Firefox to create a secure tunnel between the browser and your home computer. (You can also do this with Safari, although it requires several manual steps.) You can use this secure tunnel as a simple alternative to a true VPN for protecting your browsing in public places. (ShareTool also works cleverly to enable Bonjour within an already encrypted VPN tunnel.)
You may be wondering how ShareTool differs from OS X's Back to My Mac feature, which itself lets Leopard and Snow Leopard Macs securely connect for Bonjour networking. There are three key differences. First, an advantage for Back to My Mac is that it's bidirectional, sharing between sets of computers that use the same MobileMe account; ShareTool shares in one direction only. On the other hand, ShareTool handles iTunes and iPhoto sharing, which Apple actively blocks from Back to My Mac. Finally, ShareTool is a one-time purchase, whereas Back to My Mac requires an active MobileMe subscription.
While it may sound complicated, ShareTool is a relatively simple way to securely access media and other resources on your home or office Mac from wherever you are, even bypassing Apple's tedious iTunes blockade.
Want to stay up to date with the latest Gems? Sign up for the Mac Gems newsletter for a weekly e-mail summary of Gems reviews sent directly to your Inbox.