I often don't need to say anything more than a good Twittelator post can't handle, especially when the iPhone is my weapon of choice. But for more than 140 characters, I look to publish to one of my blogs. So I decided to test two blogging apps, CLT Studio's BlogPress and VirtueSoft.com's BlogWriter, in a no-holds-barred iPhone blogging tools shoot out.
Round One: Free versions
Both apps are available in a "Lite" version, a free edition with some limited features. BlogWriter Lite limits posts to text, with no support for images, but you can publish to any of their supported platforms. BlogPress Lite will only publish to Google's Blogger, which is great if that's your blog, but useless if it's not. Paying for the full version of BlogWriter still supports only Blogger, WordPress, MetaWeblog sites, and MSN LiveSpaces. The full version of BlogPress supports these and far more platforms, including Drupal, Joomla, LiveJournal, and more.
Round Two: Writing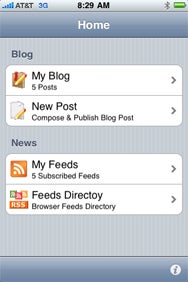 Both apps are capable of getting your pearls of wisdom posted, but BlogWriter had some drawbacks. There is no option to add tags or categories to posts, or to switch to landscape mode when writing; this is a big problem in an app designed for text-based work. BlogPress handles landscape mode, tags and categories easily. The user interface of BlogWriter is acceptable, but BlogPress seemed more intuitive and friendly.
Round Three: Pictures
Paying up for the full version of BlogWriter enables photo uploads, including choosing your photo size in the app preferences. However, even the full version requires a Picasa account to post pics to Blogger; not a huge deal, but as a certified Flickr fanatic I wasn't about to switch loyalties just for this app.
In my testing, BlogPress posted pictures effortlessly and wasn't picky about your photo service; in fact it never even asked. Turns out the full version of BlogPress hosts your photos on their servers, no configuration required. (An update to BlogPress unveiled this week added support for Flickr image uploads to go with Picasa support.) BlogPress will even post multiple pictures or move your picture placement on your blog, a feature not available on BlogWriter.
Round Four: Publishing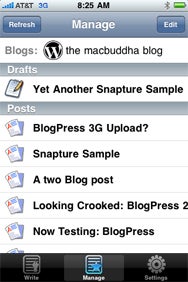 After putting an entry together, posting was easy for both apps, even with photos included over a 3G connection. Both apps provide a link to view your site in Safari, which is simple and convenient. But since I have a couple different blogs, the ability to access more than one account was crucial to my test. Turns out posting to multiple sites is a BlogPress-only feature; BlogWriter only supports one account at a time. Getting content to two or more blogs is a snap with BlogPress, a real advantage.
The verdict
For one blog hosted on Google's Blogger platform, the free version of BlogPress may be all you need. To post short text updates to one of BlogWriter's supported platforms, BlogWriter Lite may be for you. BlogWriter also includes a simple but handy RSS reader, if you're looking for that.
But if you are interested in doing more than the most basic functions, the paid version of BlogPress was really the hands-down winner. It features a friendly interface, landscape typing, no-hassle photo uploading, and support for a multitude of blogging platforms. Now if I just had something worth blogging about…
[ Jeff Phillips is an educator, photographer and technology advocate. Find him on his blog or podcast.]