Who doesn't love getting something special delivered to their door during the holidays? Newsletters are a great way to keep in touch, but time is running out to get yours in the mail before the season ends. Fortunately, Apple's Pages '09 ( ) makes it easy to create a quick but beautiful holiday newsletter. Here's how.
Start with iPhoto. No doubt, photos will be a big part of your newsletter, and looking back on your iPhoto library for the year can help you organize your thoughts and decide which events are worth revisiting and sharing with others.
In iPhoto, select File -> New Smart Album and create an album of the year's pictures. The Smart Album dialog contains three pulldown menus that give you contextual choices. Selections such as Album, Description, Face, Keyword, and others are paired with context-sensitive choices in the second menu, which relates to the third menu, where you either use a pulldown menu or type in parameters.
Check out your smart album's contents and choose the pictures you want to use. Try to pick sharp, evenly lit pictures to help ensure your photos will look good when printed (Pages' placeholder images are good examples to follow). Place your pictures in a separate folder, and give it a distinctive name.
Launch Pages. Select File -> New from Template Chooser, and pick one of the Newsletter templates. There are no specific holiday themes in Pages, but the Informal or Family themes may be appropriate. Informal has a contemporary look and offers large placeholders for your photos on its template pages, while Family is more traditional and gives you more text page template options.
Insert additional pages by selecting Insert -> Pages, and reorder them by selecting View -> Page Thumbnails, and then dragging the pages in the resulting sidebar.
To add photos to your pages, select View -> Show Media Browser (or click the Media button in your document's Toolbar), then drag your photos into the newsletter's placeholder images. To edit a picture, click it once, then drag the slider in the resulting window to change the image's magnification. Double-click and drag the image to adjust its position in the frame, then click Edit Mask and drag the frame's handles to change its size. Select View -> Show Adjust Image to fine-tune your picture's color, exposure, and contrast settings. You can even select View -> Show Inspector, and use the Rotate tool in the Metrics inspector to tilt your images to a pleasing angle.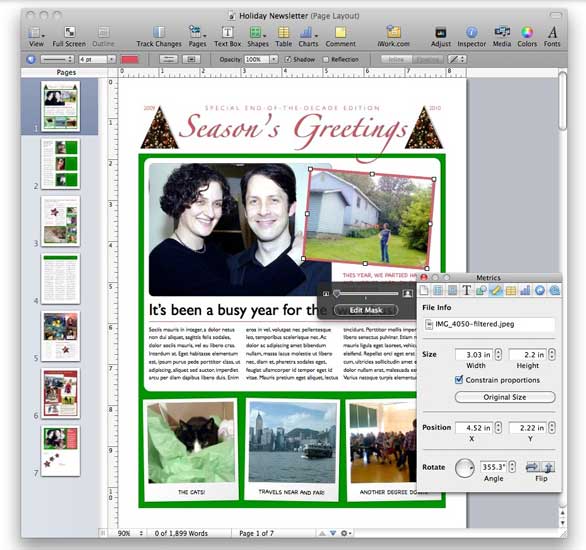 Create a holiday spirit. At this point, you probably know what your holiday message will say. So now it's time to edit each page's placeholder text to suit your greeting. Use the Text and Graphic inspectors to change your theme's text and object colors. For example, to change the color of a shape behind a text box, select the shape and choose Color Fill in the Graphic inspector's pull-down menu. Click the Color Fill swatch to pick a new color.
However, some objects may be locked so you can't edit them (when selected, there's an X instead of clickable handles). Unlock these elements by selecting them and choosing Arrange -> Unlock, then edit as normal.
The Text inspector lets you make similar changes to headlines and other text. But to change your text's font, select the text you want to change, then View -> Show Format Bar. Here, pull-down menus at the top of the window lets you choose new fonts and text sizes. Headline fonts that may be holiday-appropriate include Zapfino, Papyrus, and Apple Chancery, but experiment and find one you like best. Of course, you can always add holiday-inspired fonts to your system, and then use those.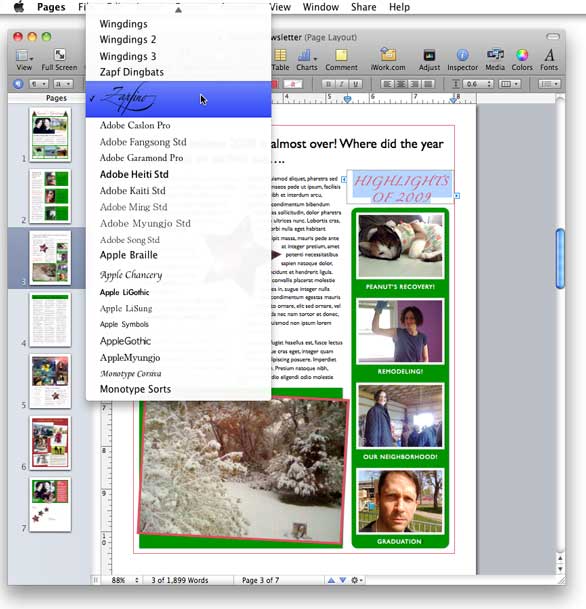 Photos from past holidays set in festive shapes make great page decorations. To add one, select Insert -> Shape and choose a shape you like. Drag a picture into the shape from the Media Browser, and edit the shape and picture to suit your page.
A pre-addressed Mailer page can save you time by letting you fold your newsletter in half and mail it without an envelope. If you choose this option (from Insert -> Pages -> Mailer), keep your recipient's address free of decorations so post office scanners can read it easily.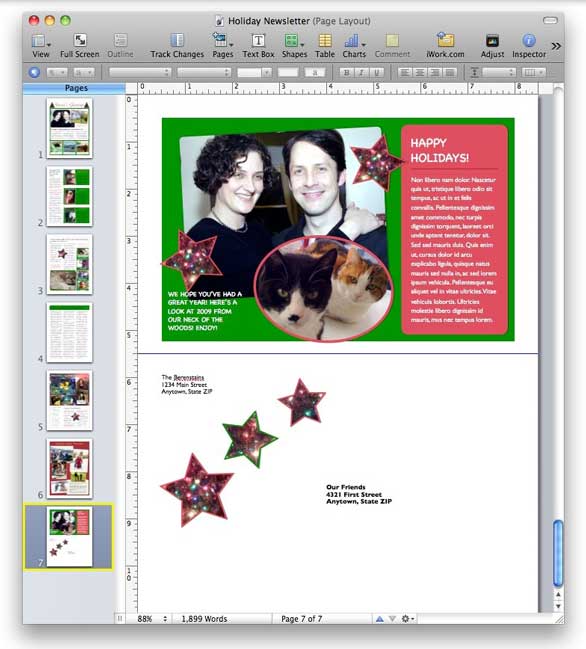 Print or export to PDF. When you're finished creating your newslatter, choose File -> Print to send your newsletter to your printer. If you want to print at a local copy shop, choose File -> Export, and choose PDF in the resulting dialog. Be sure to choose Best in the Image Quality menu, then save the file to a flash drive or the Desktop to burn to a CD-R disc. If you've included a Mailer page in your newsletters, put a piece of tape on each open side to help keep the pages flat in the post office's sorting machines.
Holiday newsletters made with Pages '09 are easy to create and make fun mementos of the holidays for family and friends.
[Adam Berenstain is a freelance writer in upstate New York.]