If you love Flight Control… Well, I can't promise you'll love Aqua Globs, a $1 game from Qwiboo—but you'll certainly recognize it!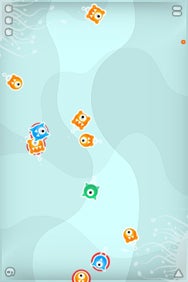 Aqua Globs is an interesting take on the Flight Control mechanic. Various goofy characters appear on screen, and you need to draw paths between similar ones to get them to connect. When small Globs of the same color meet, they form a big Glob; when two identical big Globs sync up, they vanish. But if Globs of different colors bump into each other, they die, and your game ends. So if you are familiar with Flight Control, it's like that game if the landing strips moved in addition to the planes.
Aqua Globs looks cute, and the sounds are charming. You can choose from three different speeds while you're playing, which helps blast past the dull parts. But gameplay can get manic pretty quickly, with more and more characters flying around, many of whom pose a danger to many others—so don't expect to keep the game on its fastest setting for long!
I'm a fan of well-made tutorials, and Aqua Globs sports a great one that explains everything you need to know. And it's a game that's certainly fun to play. I do find, though, that Aqua Globs feels just a bit less strategic than Flight Control, and that the outcome of each game feels a little more random.
Overall, with its cute look-and-feel and well-implemented controls, Aqua Globs is an enjoyable, increasingly-hectic diversion.
[ Lex Friedman is a frequent Macworld contributor.]