For those who remember the early days of Mac, you might recall a fun (but colorless!) game from Broderbund called Shufflepuck Café. You whacked a puck around, hoping to get a goal. For those in a nostalgic mood, or who want to re-create the hectic action of the real-world version—available at a bowling alley near you—air hockey on the iPhone takes advantage of the touchscreen display and exceptional sound on the device.
Each of the three games I looked at for this round-up supports two-player mode on the same screen, which is rather unique for iPhone games. And they have background music, AI settings, and color options. But which one is the best?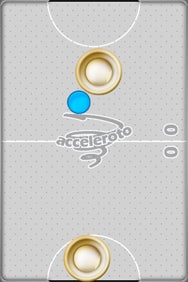 An air hockey game lives or dies by its physics engine. Long-term playability is not a matter of extra features, such as a tournament bracket or puck colors, but whether the puck moves around in a realistic fashion, whether it takes skill or luck to get a goal, and if unrealistic puck movements spoil the fun. Air Hockey from Acceleroto is the best simulation of those I tested, even if it uses a perspective that makes the table-top seem smaller than in other games. At the various skill levels (there are six total), Air Hockey reveals itself as having the best gameplay and is the most challenging to play. The game levels get harder, but the game does not use the common trick of making the AI opponent luckier. Instead, the AI opponent becomes more adept at blocking shots and the puck moves faster.
The sound in Air Hockey is more realistic than other air hockey games, and I prefer the table-top colors—which remind me of a set I used to have as a kid. There is an option to use a random table color, and in two-player mode, the game takes on a frenetic pace while still being fun. Overall, Air Hockey is the best option for finer-controlled air hockey.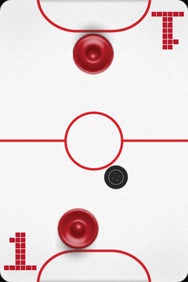 A free offering from Brainjuice, Arcade Hockey has the best graphics—the paddles and puck have a more cartoonish, well-designed look with nice 3D shadowing details and a faithful representation of the rec-room equivalant. Yet, the physics engine in the game seems more random—Acceleroto's Air Hockey seems to require more skill, since the puck reacts more realistically to your finger movements.
Arcade Hockey also has a somewhat annoying countdown after the puck drop. For some, it might build anticipation. For me, it just meant waiting a hair longer before the action starts. The music in the game is also sort of lame—I'd prefer more customization. Arcade Hockey has only three difficulty levels, but you can change the puck and mallet size. Strangely, there does not seem to be a way to play a simple practice match and you can only select best of 5, 9 or 15. I'm not sure who would want to play 15 games of air hockey, but at least you know you can.
As I mentioned, Arcade Hockey is free, though it was a paid app when I originally tested the game. The change reflect's Apple's recent policy switch on allowing free apps to offer in-app purchases. You can upgrade from within Arcade Hockey to remove the ads, unlock longer game options, higher difficulty settings, and global high scores.
World Cup Air Hockey from Skyworks looks like it should be the best game of this trio. Its viewing angle is just above the table-top, so the game version looks bigger and the puck and paddles look smaller. When there's a goal, you see the word "goal" flash on a more realistic-looking sign. It feels like you get a better view of the action and more time to react.
In truth, though, the game suffers from a poor physics engine because the puck can behave erratically, careening off side walls or glancing off your paddle in ways that make the game much less enjoyable.
There is a tournament mode with 8 opponents, and a high-score board (both for your iPhone and for other players). Audio is just okay, with a clink-clink sound that is not quite as realistic as Acceleroto Air Hockey. World Cup has three soundtracks, and all of them are a bit lame—possibly on purpose, to match the goofy '70s dance music you hear at the mall. (A free lite version of World Cup Air Hockey is available to give you a limited flavor of the full version.)
I prefer games with long-term playability, and Acceleroto's Air Hockey is the only one that held my attention after a few matches. It all comes down to physics: even if the game has extra features, the enjoyment factor seems linked inextricably to whether the game plays like the real thing. And Acceleroto Air Hockey comes the closest.
[John Brandon is a 20-year veteran Mac user who used to run an all-Mac graphics department.]