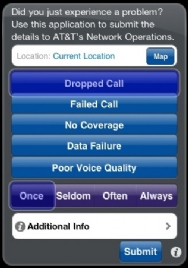 Has AT&T's network quit unexpectedly just when you needed it most? Do you find that you have coverage issues, your calls drop and fail, or you can barely hear the person you're talking to? Wouldn't it be nice if you could report these issues without having to leave that call that you worked so hard to make? AT&T understands your pain. Well, it would like to understand your pain, ideally in as much detail as you can possibly provide.
AT&T's latest free iPhone app, Mark the Spot, allows AT&T users to report problems with AT&T's network in the same way that crashes are reported in Windows or Mac OS X. Just mark where you encountered your problem on a map, select the type of problem and how frequently you encounter that problem, and type in as many details as you wish.
Granted, this app doesn't provide a way to tell if AT&T is paying attention to your problem or intends to have it fixed. If you'd like to try to get that kind of resolution, you still have the option of calling AT&T's Customer Care line (dial 611) to experience the thrill of being put on hold for your chance to get sweet nothings and empty promises from a man, woman, or robot somewhere far down the chain of command.
Think of it as a holly, jolly Christmas gift to make up for a lack of little blue bars. Mark the Spot requires iPhone OS 3.0 or later.
[via Gizmodo]