At a Glance
Expert's Rating
Pros
Excellent recognition with little training
Works in English, French, German, and Italian
Works in all applications
Users can train individual words, as well as correct errors in recognition
Cons
High learning-curve
Can use a lot of memory and processor cycles
Not all words can be effectively trained
No printable list of all commands means users must memorize many commands
Editing is not user-friendly, and is fraught with errors
Our Verdict
It has been nearly two years since we first reviewed the MacSpeech Dictate speech-recognition program. At the time, the program was relatively new, being pretty much the first iteration of Dictate using Dragon's NaturallySpeaking technology. In more than a year and a half, MacSpeech has issued several updates to the program. More recently, the company released MacSpeech Dictate International, which, in addition to English, provides Mac speech recognition in French, German and Italian. (I reviewed version 1.5.7 1.5.8.)
Looking back at my first review, I see pros and cons that are similar to what I find in the current version. The program remains remarkably accurate with little training, and, in my testing, I found that MacSpeech Dictate was able to recognize a fair amount of basic medical and legal terms, even though the program is not designed for such specialized uses; MacSpeech sells special legal and medical versions of Dictate with enhanced vocabularies for those specialties.
MacSpeech Dictate still works well in just about all programs, but I found that it lost its way when I switched from one program to another. For example, dictating into the window of a text editor worked well, but when I switched to iChat to send an IM to a buddy, the program got confused in the iChat window, and more confused when I switched back to my text editor. This may not be the optimal way to use such a program, but people who are using this program because of disabilities will need to shift from one application to another frequently.
Editing texts (both "training" words and phrases during the dictation process and post-editing after dictating several paragraphs) raised issues as well. Moving back to previous words, selecting text to edit, and navigating documents often resulted in problems. The program would lose track of where it should be, or select the wrong words. The most efficient way to work turned out to be to correct each sentence or phrase immediately after dictating. The program works better when you dictate short bits of text (say 10 words or so) then pause, allowing it to recognize and "type" what you've said before you continue. If you edit and correct your texts after each sentence or phrase, you won't have to worry about quirky editing. However, when I dictated like this, I was too focused on the accuracy of the dictation and less able to think about what I really wanted to say.
New in this version is a Vocabulary Editor, which lets you view, edit and add to the vocabulary that the program recognizes. Opening this window shows you all the words that are recognized, both those in the program's internal database and words the user has added. You can use this to train words that are not well recognized. While this may help with some words, it doesn't work all the time. I tried training my name (in the previous review, I noted how difficult it was to get MacSpeech Dictate to recognize my name), by adding it to the list and saying it three times, yet this didn't improve recognition during dictation.
One of the big changes to this program, as I mentioned above, is its ability to work with languages other than English. Being bilingual (I live in France and am fluent in French) I thought I would try the program in French and see how efficient it was. Its recognition is just about as good (with little training) as it is in English. I found that, in French, I needed to correct it a bit more, but this is most likely because there are far more homophones in French, making voice recognition a more difficult task.
My biggest gripe with the program remains the high learning curve and the overall complication of using it. The number of special phrases that you can use (or that you need to use) when dictating is quite high. There are three modes: dictation, spelling, and command modes. Each of these modes has a number of phrases that you need to speak to use them efficiently. For example, you need to know certain phrases that insert appropriate punctuation, or that you use to navigate when editing text. There are phrases to select words, delete words, change the case of words, and more. There are special ways to say numbers, dates, and letters. To spell words and abbreviations, you need to use the international radio alphabet, using words like alpha, bravo, charlie, etc. And to control applications, there is an endless number of special commands. There are dozens of pages in the program's manual listing all of these commands, but there are no summary sheets that you can print out to have them handy. (There is an on-screen palette that displays some, but not all of the commands, and it requires clicking disclosure triangles and scrolling to find what you want. Printed cheat-sheets would make the program easier to get used to.) To learn how to use the program, and remember the many commands you need, takes a long time and is very frustrating.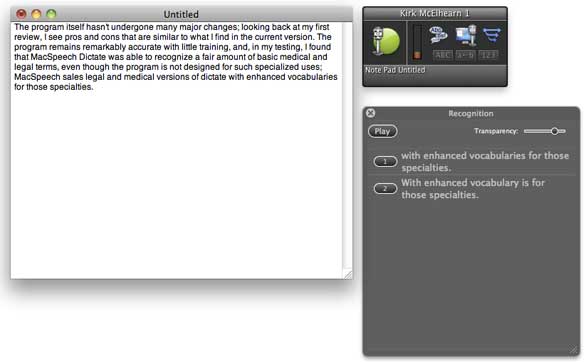 You can also control applications with MacSpeech Dictate, and the same problem arises where there is a plethora of commands-basically all the menu commands in an application. While errors in recognition are an annoyance when dictating text, they can be downright frustrating when you are trying to control applications. For example, I was never able to get the Paste from Clipboard command to work. It would bring up the Commands window (a window listing all the application commands available, and allowing the user to edit them) rather than pasting text.
Finally, MacSpeech Dictate is very taxing to your Mac. I would regularly see it using more than 1 GB of active memory, using the processors intensively, and generating large swap (virtual memory) files. (I tested it on an early-2009 Mac mini with 4GB of RAM and a 2.26GHz Intel Core 2 Duo processor.) I also occasionally got beachballs when using Dictate, which would require me to wait for about 15 seconds before the program was responsive again; in some cases I had to force quit the program after it was unresponsive for longer periods of time.
Macworld's buying advice
In spite of the negative points in this review, MacSpeech Dictate International is quite efficient for basic dictation. After you get used to the quirks in editing and training, and learn to edit your dictation frequently, it can be very useful. It's probably not ideal for those who want to extemporize and edit later, as the results can be very surprising. But for those with physical disabilities or RSI, poor typing speed, or who simply want to talk to their computer rather than use a keyboard, it's the best there is for Mac.
[Senior contributor Kirk McElhearn writes about more than just Macs on his blog Kirkville.]
[Editor's note: After this review posted, version 1.5.8 was released to address issues with the new iMacs. We have determined that the new version has not affected our review or rating. The review was updated 12/10/09 at 10:45AM to reflect that version 1.5.8 was reviewed.]