Both kids and adults seem to love Shrek. The comedy-fantasy films were all huge commercial successes, in large part because the humor appealed to audiences of all ages. Gameloft harnesses that widespread appeal for the first ever official Shrek iPhone application, Shrek Kart.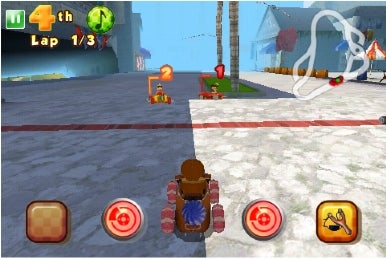 Anyone who grew up obsessed with Mario Kart is already familiar with the game's format: characters race go-karts through cartoonish environments, picking up weapons and boosters as they go. For Shrek Kart, the environments are movie-themed tracks with fantasy-themed weapons and obstacles. The courses are all brilliantly detailed 3D environments full of references to the films. The game's plot tasks the characters from the movie racing as a fundraiser for Humpty Dumpty's medical expenses. Apparently, the citizens of Far, Far Away don't have adequate health coverage either.
You can literally play this game for hours, maybe days, thanks to the unending combinations of game play. You start with four available characters, including Shrek, Puss in Boots and Gingy the gingerbread man; there are four more characters (Princess Fiona, Lord Farquaad, and so on) whom you can unlock by winning certain races. Each player comes with stats for speed, acceleration, and handling to help you decide who's right for you.
While you're racing, you can collect weapons (tornadoes, angry bees, pumpkins) to use against your opponents. Additionally, each character has a signature weapon that only they can use. Shrek, for example, uses his incredible flatulence to propel himself through brick walls.
You also get to choose how you want to drive: you can either tilt the screen to maneuver, or tap the left or right side of the screen. I found the touch-screen driving to be much easier, because I found it easier to control the sharpness of your turns with light taps, as opposed to the sometimes unpredictable tilt controls.
In single player, you can choose from four modes: "Single Race," "Tournament," "Arena," and "Challenges." Single race allows you to familiarize yourself with the 12 different tracks, practice your strategy, and choose the difficulty level, while in tournament mode you can choose from four "cups", each with four events and two races in each event—an exhausting venture for most players.
The other two modes are more about strategy than racing: Arena is similar to the battle mode from Mario Kart—you're thrown into a confined area with a bunch of characters and you're tasked with taking out the other players while avoiding getting hit yourself. Meanwhile, the Challenges mode allows you to practice collecting items, avoiding obstacles, or beating the clock.
Multiplayer mode enables you to do all of the above via Bluetooth with a nearby friend, or with up to six other local people via Wi-Fi.
The only real drawback to the game is the noticeably long load times, though for how much work your iPhone is doing, it's understandable. The multiple game modes let you decide whether you want to play for a few minutes or a few hours, and the endless combinations of races, tournaments, tracks, and characters ensure that the game can be different every time.
The $5 price tag might seem high for an iPhone game, but I consider the gameplay to be on par with something you'd play on a console. Anyone who enjoys Nintendo racing games or the Shrek franchise's brand of humor will find this game right up their alley.
[Meghann Myers is an editorial intern for Macworld.]