Cooliris has launched Cooliris Express, a free online tool that lets consumers quickly build customizable and immersive walls of photos and videos to post and share from their Websites, social networks, and blogs.
The program lets users of all skill levels access their videos and photos from Flickr, Picasa, YouTube, or any media RSS feed, and use them to build a Cooliris Wall gallery for their personal or business Website or a supported social media site. The technology is designed to enhance the viewing experience beyond simple photo or video albums.
"The release of Cooliris Express supports our vision to deliver media discovery experiences that are consistently impressive, easily deployed, and customizable," said Michele Turner, executive vice president of products at Cooliris. "We have created an extremely easy way for consumers to incorporate Cooliris technology in their favorite Web experiences and produce professional, compelling photo and video galleries that they can share with others."
Using Gigya social media technology, Cooliris Express supports more than 20 social media sites and blogs including Twitter, Facebook, WordPress, Blogger, TypePad, Netvibes, Yahoo, Hi5, iGoogle, and Orkut, among others. In addition, Cooliris Express allows users to integrate the Cooliris Wall into their personal or business Websites. Just select a site and the tool automatically generates the code that users can copy and paste into their page for the wall to appear.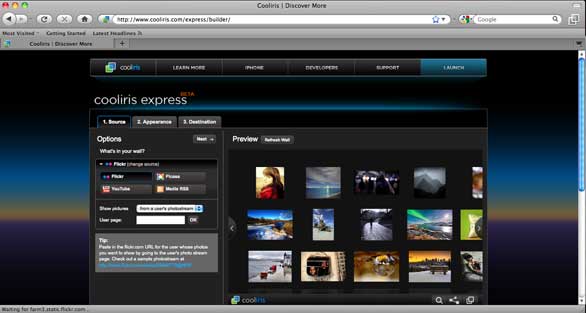 A step-by-step wizard walks users through the process of building and posting their gallery. Once images or videos are selected, Cooliris pulls them into a custom 3D wall and lets users automatically add it to their news feed with one click. Cooliris Express walls are dynamic such that once you post a gallery, any updates such as added images or videos will automatically show up on the wall.
Cooliris also plans, in the near future, to release a version of Express that gives Web developers and premium content publishers a way to deliver their media and advertising within the wall framework.