At a Glance
Expert's Rating
Pros
Powerful, flexible way to build your own tools
Combines note-taking, presentation, database, and blogging tools in one application
Cons
Initially shallow learning curve turns Everest-steep
Some minor bugs
Dizzyingly complex
Our Verdict
Thomas Jefferson, a compulsive note-taker, would have loved Eastgate Systems' Tinderbox, an innovative and endlessly versatile tool for recording, cataloging, and sharing notes. But we can't all be polymath ex-Presidents. Unless you're a hardcore geek who loves to build and customize your own applications, Tinderbox may prove to be more software than you need.
Tinderbox starts simply enough, with little files it dubs Notes. You can add a title and as much text as you want to each note; specify dozens of system-created attributes to govern the note's color, shape, HTML export rules, or other properties; or create your own attributes. For a sample Tinderbox project based around a screenplay, I created a note for each scene, pasted the contents of that scene into its text field, and specified which of three acts it belonged to via a custom attribute I'd made.
Once you've created your notes, Tinderbox offers powerful tools to order and manipulate them. Agents are active searches that Tinderbox runs on your notes, performing customizable Actions on Notes that meet the criteria you set. I created Agents to apply different colors to each scene, based on whether they featured the hero Ellen, the antihero Danny, or both.
You can view the same information in Tinderbox in one of seven different views, including maps, flow charts, text outlines, and previews of its various HTML and text export templates. Once I'd created my list of scenes in Outline view, I moved into Map view, where each note appeared as a colored box. I then added Adornments to the map—areas of color hovering behind the notes. By setting each adornment to collect scenes from a given act of the script, I automatically created a visual map that illustrated how much of the screenplay focused on each character. Once I learned how all of this worked, it took only minutes to set up a clear, coherent grouping of my information.
My test project barely scratched the surface of Tinderbox's uses. Creator Mark Bernstein uses its integrated Internet features to convert new notes to HTML and post them on his blog. Another user offers a series of video tutorials, showcased on Eastgate's site, explaining how he created a Tinderbox application that tracks his blood sugar and helps him manage his diabetes. The Web site also includes examples of how Tinderbox's map view can be used for visual brainstorming or PowerPoint-like presentations.
That seemingly endless flexibility is the start of Tinderbox's small list of troubles. To get the most out of the program, you'll need to scour its lucid and well-written 278-page user manual, which includes 60 pages of appendices covering the program's language of regular expressions and almost comically long list of attributes.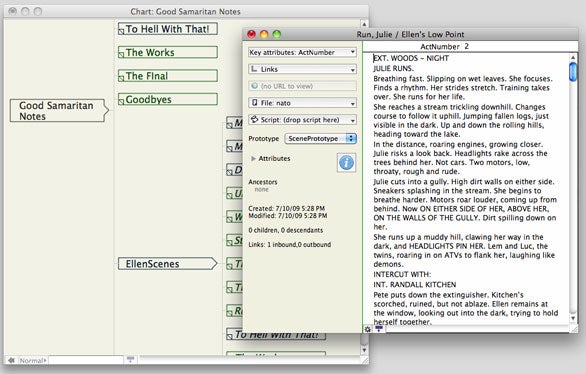 If you're comfortable with programming languages such as JavaScript, you'll be fine working with these attributes. If not, you may feel your brain start to hurt the moment you venture past simple commands like Color="red." (And don't forget to capitalize Color. Tinderbox's strict insistence on case-sensitive attribute names caused me a few headaches.)
Bernstein has clearly taken pains to elegantly pack the program with every possible option imaginable. Want to add color to a note, for example? Beyond the basic hue, you can choose from multiple shades and temperatures. Tinderbox's helpful, tidy menus mostly put all this stuff within easy reach, but there's just so much of it.
The program also seems built largely for function, not form. Compared to more visually polished apps, Tinderbox looks sparse and utilitarian. It's often difficult to intuitively grasp how to interact with the program, or figure out which keystrokes or buttons will perform which functions, without consulting the manual.
I also ran into a few odd bugs. Tinderbox sometimes crashed when switching back and forth between applications, although I couldn't reliably reproduce that. And despite what the Help files said, I couldn't paste images into a Note's text field. Bernstein told me that feature had been disabled in version 5.0.1, but would return in a future release.
Not included with the program, but graciously provided by Eastgate: The Tinderbox Way, Bernstein's companion volume to the software ($40 in softcover from Eastgate's online store). Though it contains some useful information about how to use Tinderbox, it's mostly earnest but esoteric digressions into hypertext theory, detailed discussions of Bernstein's note-centric lifestyle, and other topics that seem only peripherally related to the program itself.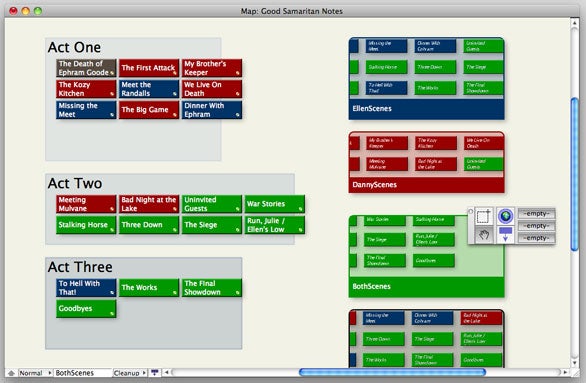 Macworld's buying advice
Tinderbox's exceptional power and amazing potential definitely justify its hefty price tag—but only for users eager to dive into its documentation. If you're not a brilliant statesman and scholar (or you weren't the sort of kid who liked to dump out all your Legos on the table, ignore the instructions, and build whatever you liked) you'll probably be better off with a simpler, less expensive, friendlier program like Circus Ponies' NoteBook ( ) .
[Nathan Alderman is a writer, copy editor, and instruction-manual-follower in Alexandria, Va.]