At a Glance
Expert's Rating
Pros
Comfortable, choice of S/M/L single and dual flanged silicone inserts
Good looks and range of features including tapLine control, Voice Over compatibility and microphone
Cons
Sound is a little disappointing
Our Verdict
The stylish IDR650m earphones from Scosche are an attractive alternative to the iconic white buds supplied with every iPhone and iPod. Sold with a range of small/medium/large single and dual flanged silicone inserts (six pairs in all), the IDR650m are also comfortable. Once you find a pair that fit, the IDR650m earphones do a fair job of keeping the daily din from distracting from the music, but they aren't completely soundproof.
The earphones come with Scosche's own tapLine control along the cable and in easy reach of most listeners. This gives users the ability to control volume by pressing the + and – buttons and control music and video playback, including play/pause and next/previous by pressing the centre button. It works well as is due to its prominence and is less fiddly than some controls we've tried.
Listeners can also activate Apple's Voice Over feature, which should guarantee you keep yours eyes on the road and tasks at hand on your travels. An integrated microphone for hands-free conversations is another useful addition.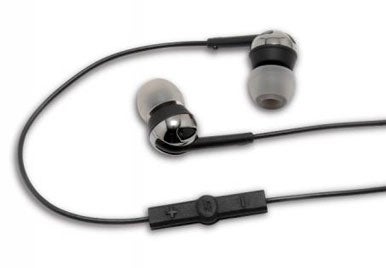 According to Scosche, the audiophile grade earphones have been designed by audio enthusiasts for audio enthusiasts that want to get the most out of their music. However, we were a little disappointed with the audio quality, which is never less than decent but hardly outstanding. It's hard to pin down what's missing, a lack of focus and detail perhaps, but for this price we hoped for a bit more of a wow factor.
Cable length is 52-inches, and the cable has a good-quality 24K gold plated 3.5mm audio jack. A soft leatherette carrying pouch is included but is also useful for storing those spare silicone inserts should you loose one or more of those you are using.
Macworld buying advice
While looks and features are just fine, the IDR650m earphones aren't quite the sound investment the price might suggest, though you can find them significantly discounted online. The IDR650m earphones are a decent buy, but there are better deals to be had.