As promised, the Google Chrome for Mac beta has just made it in under the wire for a 2009 release. Of course, it's still just a beta, not a first release—and, as we know, it's missing some features—but it's a step beyond what we've seen so far.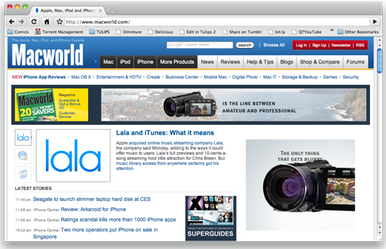 Available for Windows for more than a year, Chrome's stated purpose is to provide a slim, fast, secure browser. Developer builds of Chrome first appeared for OS X last June, though they were plagued with bugs and missing features.
Based on WebKit, the same technology that underlies Safari, Chrome boasts a sandboxed security mode that aims to mean the crash of one tab won't take down the entire browser. There's also a location field that doubles as a search box and an incognito mode for when you don't want your browsing history retained.
The 17.6MB download requires Mac OS X 10.5 or later and an Intel processor, and while it might lack features from its Windows counterpart such as a Bookmark Manager, support for Google Gears, and a full extension architecture, it does at least hope to deliver on its core promises of speed and stability. We'll have an in-depth first look at Chrome later on Tuesday.