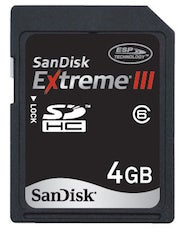 If a new digital camera is on your shopping list this season, you'll also need a memory card to store photos on. While some cameras come with a small starter card, most don't. In either case, you'll want to invest in a good card with lots of room for your pictures.
Prices for SDHC memory cards—the most popular type of camera media—can range from $5 to $95. But how can you tell which is the best memory card for you? Here are the important things to keep in mind when buying a new card (if you're in a hurry, just scroll down to the end for a summary).
Which flavor of SD?
For the most part, SDHC cards have replaced older SD memory cards. Both cards use the same form factor (24 by 32mm); however SDHC cards feature larger capacities and higher data-transfer speed (SDHC cards range from 4GB to 32GB, where older SD cards top out at 2GB). Nearly all SD-compatible cameras sold today accept both SD and SDHC cards, so either will work. Where this could become an issue is if you have an old camera that was manufactured before the SDHC standard was adopted. The easiest way to check this is to refer to your camera's specifications, either online or in your owner's manual.
Just make sure you don't accidently order a microSD card, which is smaller and isn't interchangeable with SD memory cards. While we're on the subject, note that the SDXC spec was released in April 2009. This latest version extends SD storage potential up to 2TB. Although SDXC cards aren't really on the market yet, once they arrive, they'll face the same backwards-compatibility issues that SDHC cards do.
How much storage do you need?
A "full memory card warning" at an inopportune moment is one the great bummers in photography. You can help prevent pitfall by choosing the right capacity for your shooting style.
These days, memory card capacity is typically measured in gigabytes. For hobbyist photographers, I recommend a minimum card size of 2GB. If you shoot a lot of photos or shoot in Raw mode (which produces significantly larger image files) you'll probably be happier with 8GB.
So how does that shake out in terms of number of pictures stored? If you're shooting with a 10-megapixel camera, such as the Canon PowerShot S90, you can squeeze about 750 high resolution Jpegs on to a 2GB SD card. However, if you switch to Raw mode, that number drops to 135 pictures on the same card. By comparison, an 8GB SDHC card can store around 540 raw files.
Video capture requires even more room. On a 2GB card, the S90 can record 24 minutes of standard definition video (640×480 pixels at 30 fps). But on an 8GB card, it can fit 1 hour and 35 minutes of video.
So while most still photographers can get by nicely with cards in the 4GB range, those who also shoot video should consider 8GB or 16GB cards.
How fast is the card?
The speed at which data can be written to a memory card, or read from it, is one of the most difficult specifications to understand.
There are two transfer rate categories to consider: speed and class.
Seeking Speed A card's stated speed refers to the maximum rate that still pictures can be written to the card or read from it. Some card manufacturers refer to speed in terms of "X", such as 200X. In these cases,"X" stands for 150KB per second. So a 200X card has a maximum speed of 200 x 150KB per second, or a little less than 30MB per second. Other manufacturers, such as SanDisk, just spell it out by saying 30MB per second.
The good news is that most compact camera shooters don't really need to fret about speed. Generally, compact cameras don't write fast enough to the memory card to make speed an issue. Now, if you're shooting raw files with a digital SLR, that's a different matter. You might want to spend a few extra dollars to get a faster card, such as one that writes at 20-30MB per second. This will increase your performance when shooting in burst mode, and most likely shorten the time it takes to transfer photos to your computer.
Decoding class Most SDHC memory cards also display a Class rating, which indicates the minimum speed at which the card can record data. This is relevant only when recording video. Unlike photos, which dump a lot of information all at once, video produces a steady stream of data. So long as the card meets your camera's minimum requirements, you won't benefit from a faster card in this scenario.
Class ratings are listed as 2, 4, 6, and 10, which refers to megabytes per second. So a Class 4 card can sustain a transfer rate of 4MB per second. If you're not shooting video at all, then you don't need to worry about Class. If you are shooting video (AVCHD or MOV) with a digital camera, then Class 4 should suffice unless otherwise stated in the camera specifications. Most dedicated camcorders will want Class 6, but check its specs to be sure.
The Bottom Line
For most casual photographers, memory card capacity should be the deciding factor. Use these guidelines as a rule of thumb for choosing minimum card capacities:
If you shoot Jpeg only: 2-4GB
If you primarily shoot in Raw mode: 4-8GB
If you shoot Jpeg and video: 4-16GB
If you shoot Raw and video: 8-32GB
Faster cards (20-30MB per sec) may improve performance of DSLR cameras in burst mode, and decrease the time it takes to offload large files using a fast card reader. If you shoot video with your digital camera, then a Class 4 card should cover your needs unless otherwise stated by the camera manufacturer. Of course, it doesn't hurt to buy a card with a fast speed rating, you just may be paying for more than you need.
[Senior Contributor and professional photographer Derrick Story teaches photography on Lynda.com and publishes a weekly podcast at The Digital Story.]