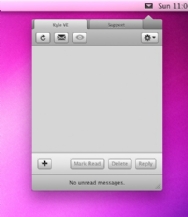 E-mail's a very important part of our everyday lives. Between the newsletters, the personal correspondence, the "hold on, did you get that thing I sent you" messages, and the spam, we're still stuck with it. Mac OS X has an app for that. It's called Mail, but it's a bit too feature-rich for some folks, especially compared to the minimalist Address Book and iCal apps. What if there were an e-mail client for OS X that stripped everything down to the basics and added a nice layer of polish on top?
The original Notify was merely an e-mail notification app, but developer Vibealicious has turned Notify 2 Pro into a very capable, if still dead simple, e-mail client that sits in the menu bar. The user interface sports the same silver chrome as Safari 4 and Leopard, and it features tabs for each e-mail account to make it easier to tell which account you're reading or sending mail from. You can even send e-mail and preview entire messages from Notify's drop down user interface, without ever having to open a browser window.
There's support built-in for multitouch gestures to easily change tabs. For people who want to tweak exactly how they want to be informed as e-mail arrives, sound and visual notifications are fully customizable, and there's even an option to enable Growl notifications.
Out of the box, the $10 Notify 2 Pro supports Gmail, Google Apps, Rackspace e-mail, MobileMe, and IMAP e-mail accounts, and it requires Mac OS X 10.5 or later. You have 14 days to try out all of its features on a trial basis, but you can run the app as a simple notifier alongside your current mail client for as long as you'd like.