Command and Conquer: Red Alert started life as a PC and console game, and even came to the Mac. Developed by Electronic Arts, the new iPhone version of the game isn't a direct port, but it is an impressively robust, feature-rich standalone version.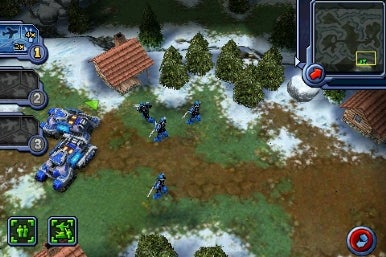 All that impressive power comes at a price. Several editors at Macworld couldn't get Command and Conquer to run on the iPhone 3G; I did my testing of the game on a 3GS, where it played quite capably.
In case you're not familiar with the Command and Conquer series, here's a quick primer: It's a real-time strategy game set in a bizarre parallel universe. In the series' overall storyline, Albert Einstein travels back in time to eliminate Hitler, thus preventing World War II. Later, Soviets travel back in time and remove Einstein himself, preventing the United States from developing the atomic bomb. The Soviets thus rise to dominance, and that's where the action starts. You can play either as the Soviets, furthering their global domination, or as the Allied Forces, trying to beat them back. As cool and clever as this alternate history is, the iPhone version of the game doesn't spend much time focusing on it, preferring instead to thrust you into the action right away.
Real-time strategy games work great on consoles and computers. Lots of quick movement can be required, and you need to be able to move around the world easily. Matching this control urgency on the iPhone was an important task for EA, and I'm pleased with the results. You can pan around the map with a single finger, and everything loads smoothy and immediately on my 3GS—faster than Google Street View renders on my iMac, as a reference. You can pinch to zoom, which also works flawlessly in my testing. A miniature map lets you quickly navigate anywhere you'd like. You select units by tapping on them; to select all identical units, you double-tap on any one of them. And a useful "Select All" icon lets you grab everybody. Manipulating your troops is similarly straightforward: Once they're selected, simply tap where you want them to go, or on the enemies you'd like to attack.
Both the graphics and the soundtrack in Command and Conquer 3 are striking. The graphics are 3D and finely detailed, particularly given the tight space to work with. All that said, this is an iPhone. To fit all the action and the interface elements on the screen, everything looks very, very small. I'm only in my late twenties but I found that my eyes needed a few moments to adjust to the tiny text and imagery. Even then, I had to squint during extended play sessions in order to keep track of all the details in the game. Still, the cramped confines work within the game itself, and most non-essential elements are collapsable when needed.
My chief complaint about the game today is how limited it is. Command and Conquer includes two playable campaigns and two maps you can use in Skirmish mode. You can play only against a computer-controlled enemy in the single player campaign and skirmish mode. EA claims that a free upgrade will add support for Wi-Fi and Bluetooth multiplayer but you'll have to pay for other content upgrades. Additional maps or the "Empire of the Rising Sun" expansion pack will be paid, in-app upgrades. The only upgrade sold at press time is a $1 batch of six additional skirmish maps. Given the time and effort that clearly went into creating the game, though, it feels like EA skimped a bit on actual playable content. The real-time strategy genre caters towards obsessive players looking for lengthier playing times, and the stock Command and Conquer single player game experience frankly ends too quickly. Multiplayer will be a huge boon when it's released, and I sincerely hope some additional campaigns and maps will be included without an extra upgrade fee. As is, the game feels oddly tiny in spite of its obvious depth. For $7, I expect more.
[Lex Friedman is a frequent Macworld contributor—or so the Soviets would have us believe.]