The on-screen keyboard for the iPhone certainly has its share of fans, but there's also a noticeable chunk of the population that, at best, has learned to tolerate on-screen keys and, at worst, can barely contain their disdain. If you're among the anti-onscreen keyboard crowd, Nuance Communications has a new iPhone app that lets your voice handle the typing.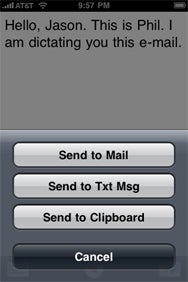 Dragon Dictation, which arrived in the App Store Tuesday, is a mobile voice-recognition app that lets you compose e-mail or text messages by speaking. The app is compatible with the iPhone—sorry, iPod touch users—and requires the iPhone OS 3.1 update. The app is currently available for free, though Nuance says that's for a limited time.
Nuance is widely known on the PC side of things for its Dragon NaturallySpeaking speech recognition software. But Mac users may be familiar with it, too—MacSpeech licenses the NaturallySpeaking technology for use in its MacSpeech Dictate speech-recognition offering.
Dragon Dictation sports a red recording button. Tap it to dictate a message, and tap the Done button when you've finished recording. The app will show you a text version of your message. You then have the option of summoning an on-screen keyboard to edit the message—in my early testing, I usually forget to include punctuation—or recording more of the message. Another button gives you the option of sending your voice-to-text message via e-mail or the iPhone's Messages app. You can also copy your message to the Clipboard for pasting into another application.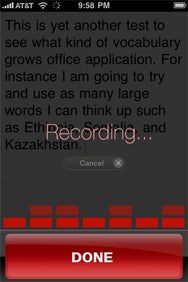 Speech programs are a growing segment in the App Store whether it's voice-recording apps that compete with the iPhone's built-in Voice Memos app or utilities like Say It & Mail It, which allows you to record a voice memo and send it via e-mail. Dragon Dictation seems more as if it's more likely to compete against the likes of QuickVoice2Text Email, which, like Dragon Dictation, turns your dictation into text. In QuickVoice2Text Email's case, though, it's the SpinVox voice-to-text technology that's handling the conversion.
Nuance hopes that its NaturallySpeaking technology proves to be the difference maker. And indeed, the developer has done a good job of bringing its expertise to the mobile platform, if the pre-release build of the app that I tested is any indication. I was able to use Dragon Dictation without having to first train the app to recognize my voice. It recognized almost every word I said, though, as I mentioned earlier, punctuating messages proved to be a bit of a challenge.
Dragon Dictation won't be the only iPhone app from Nuance. The company is also working on a voice-driven speech app similar to what Google offers in its Google Mobile App. Nuance's search tool is in the review stage, so the company isn't sure yet when it will hit the App Store.