If there's one thing that our newfangled handheld doodads are good at, it's sharing files. E-mail, instant message, FTP—the list of ways to send things to people goes on and on.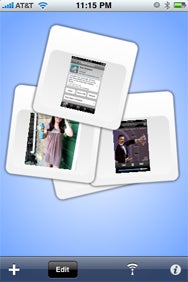 But what if you're standing next to someone with whom you'd like to share a photo or video? Shouldn't that process be simpler than sending those bits all the way around the Internet and back? Thanks to Mover+ and Mover Lite from Infinite Labs, you can do away with long-distance travel for data.
Mover uses Wi-Fi and Bluetooth to shuffle files between devices. If two people are on the same Wi-Fi network, they will be recognized. No Wi-Fi? No problem—Mover+ has the ability to pair phones using Bluetooth.
Once you've launched the app, it begins searching for other devices running Mover on the network—it displays any results by their name on your screen. To use Bluetooth instead, tap the connection icon on the bottom of the screen, which will begin a Bluetooth-based search for local phones to pair with.
Bluetooth is only recommended in the absence of Wi-Fi because of how slow data transfer will be in comparison to the zippy Wi-Fi. What's more, if you turn Bluetooth on from inside Mover, it will stay on until you turn it off from the device's settings panel. I've also found recognition of other devices to be spotty on occasion; usually, closing and relaunching Mover fixes the issue.
Once you've established a connection with someone else, it's time to decide what to share. Mover can move pictures, videos, bookmarks, contacts, and pasted text. You can select most of those with the tap of a + (plus) button. (To share bookmarks, you have to use a workaround, which Mover details in its info screen.) To send files, simply swipe the file in the direction of the name on the table and a status circle will show up on both devices. Once the files are transferred, they are saved to your address book or photo library. If you want to access the files immediately, you can double-tap them on the table to open them.
Mover Lite, the free version, won't allow you to use Bluetooth to send files, but you can receive files via Bluetooth that are sent by users of the paid versions. Both editions of Mover also include support for users with disabilities via VoiceOver.
Overall, both the paid and free versions of Mover perform well, making for easy data exchange without the hassle of sending an e-mail or trying to remember to do it from a computer later.
[Rob de la Cretaz is a full-time polymath and a proud resident of Pittsburgh.]