At a Glance
Expert's Rating
Our Verdict
Apple's iLife suite makes it easy to share your media—photos, music, and movies—between iLife's programs thanks to a handy media browser. Karelia's iMedia Browser extends that functionality across all applications. Made to look much like the iLife browser, iMedia Browser is a standalone application that provides quick access to your media—and to your bookmarks.
Launch iMedia Browser, and its toolbar displays icons for Photos, Audio, Movies, and Links. Click an icon to view that type of media:
Photos: images in iPhoto, Aperture, and Lightroom (browsable by library, album, or event); your Desktop Pictures folder (/Library/Desktop Pictures); and your Pictures folder; as well as iChat icons, slideshow-screen-saver images, and User Pictures.
Audio: GarageBand projects, iLife and iMovie sound effects, and audio in iTunes (browsable by library, media type, or playlist), your Music folder, and your Sounds folder (~/Library/Sounds).
Video: videos in iPhoto (browsable by library, album, or event), iTunes (browsable by library or playlist), and your Movies folder.
Links: your browser bookmarks (browsable by menu and folder). The program's documentation says this feature should show bookmarks "from several leading web browsers," but for me it showed only Safari bookmarks—my Camino and Firefox bookmarks did not appear.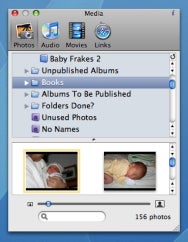 Click on a source or folder in the top pane of the window to view the contents of that source in the bottom pane. For images and video, you see resizable previews; double-click a photo to view it in Preview or a movie to play it within the iMedia Browser. For audio, double-clicking a file (or selecting it and clicking the large play button) plays the track, although I wasn't able to preview GarageBand projects. For Links, double-clicking a bookmark opens it in your default browser; unfortunately, you don't get a textual preview of a bookmark's URL.
For photos, audio, and movies, you can drag additional folders into the browser to make those folders' enclosed media available for browsing. There's also a Search field that lets you quickly filter your media.
Once you've found an item you want to share or use elsewhere, simply drag it from iMedia Browser to an e-mail message, into an iChat window, to a folder or volume in the Finder, or to a program that accepts media (such as a Web-design application); the file will be added as an attachment, sent, or copied, just as if you'd dragged it from the source program. (The exception here is bookmarks; the Links view is provided mainly as a way to quickly access your bookmarks. It would be great if you could drag a bookmark to, say, an e-mail message to include the bookmark's URL in the message.)
You can choose for iMedia Browser to act as a normal program, or to hide when in the background; if you enable the latter option, you can access iMedia Browser from either the Dock or the menu bar. I keep iMedia Browser running all the time for quick access to my media.
Want to stay up to date with the latest Gems? Sign up for the Mac Gems newsletter for a weekly e-mail summary of Gems reviews sent directly to your Inbox.