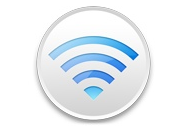 If it's late in the day out here on the east coast, it can only mean one thing: time for Apple to drop some updates like they're hot—or at least room temperature, anyway. The company released a slew of patches on Tuesday, including an AirPort Client update, a pair of EFI firmware updates for the MacBook and MacBook Pro, and a SuperDrive Firmware update.
Let's start with the great unwired masses. The 12.95MB AirPort Client Update 2009-002 (the hit sequel, of course, to March's blockbuster AirPort Client Update 2009-001) is recommended for all Macs currently running Mac OS X Snow Leopard 10.6.2. It remedies a few problems, including one where some users who have upgraded from Mac OS X Leopard occasionally can't turn AirPort on or off, intermittent network connection drops when using Wake on Demand, and the inability to create a computer-to-computer network or share an Internet connection on some MacBooks, MacBook Pros, or Mac minis. In other words, if you're having AirPort problems, this update may be good for what ails ya.
The three firmware updates, on the other hand, work in concert. The MacBook and MacBook Pro EFI updates are 3.14MB and 3.36MB respectively, but they both address the same issue: noise made by the optical disk drive during booting or waking. After you install the correct update for your computer, you'll need to reboot and run Software Update and install the final update, the 18.35MB SuperDrive Firmware Update 3.0, which will also require you to restart your computer—yes, as Jerry Lee Lewis so astutely observed, there is a whole lot of rebooting going on. All three firmware updates require Mac OS X 10.5.7 or later.
iMac and Mac mini owners can apply the SuperDrive Firmware update as well, as long as they have installed iMac EFI Firmware Update 1.4 or Mac mini EFI Firmware Update 1.2.
All the above updates are available at Apple's Support Downloads site or via Software Update.