Back in September, in my review of iTunes 9, I lamented the fact that despite overhauling the design of the iTunes Store, Apple still hadn't provided a way to preview all tracks on an album with a single click—a feature other music services, such as Amazon MP3, have had for years.
So I was pleasantly surprised to discover ( thanks to TUAW) that sometime recently, Apple quietly updated the Store to provide just such an option. Now, when viewing an album that features song previews, there's a Preview All button that plays each track's 30-second preview in sequence.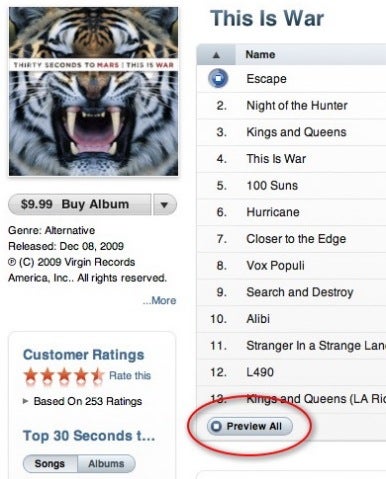 Although the feature is still missing Amazon's handy buttons to skip to the previous or next track, here's a tip: while in Preview All mode, clicking iTunes's own Forward button, or pressing the right-arrow key on your keyboard, skips to the next track. (Oddly, although clicking the Back button or pressing the left-arrow key returns you to the beginning of the current track preview, clicking or pressing again skips you to the next track, not the previous one.)
The feature hasn't yet made its way to the iTunes app on the iPhone and iPod touch.