Editor's Note: The following article is reprinted from GamePro.com. For more gaming news, visit GamePro's news page.
Namco Bandai's incredibly popular Xbox Live Arcade game Pac-Man Championship Edition has long been rumored as a prospective iPhone and iPod Touch title, but the company has stayed remarkably quiet about the subject. It broke its silence this week however, confirming that the game will be available in the App Store this Thursday.
Featuring all of the major gameplay elements from its console-based big brother, Pac-Man CE for iPhone offers 15 high-score chasing "championship" levels that are presented just as they were on the Xbox 360 with morphing mazes, remixed sounds, and contemporary visuals. These levels are supplemented with 120 additional "mission" mazes that each present more specific gameplay challenges that gradually escalate in difficulty. A further 15 challenge levels will be available as an expansion pack that can be purchased from within the game soon after launch.
Although the fundamentals of Pac-Man are very simple, the game features four different control variations on iPhone; a standard on-screen d-pad (that supports lefties too,) a "direction button" scheme where you tap with your left and right thumbs on specific quadrants of the screen, a "swipe" based control scheme where you slide either of your thumbs in the desired direction, and a similarly gestural "pointer-finger swipe control."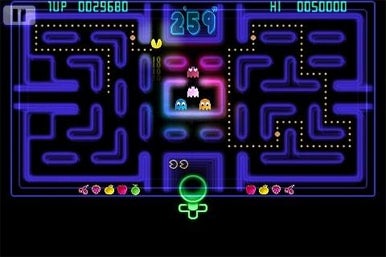 Namco Bandai has not yet revealed the game's price, but given that the Xbox Live Arcade version was just $10, we anticipate this version to be even cheaper.
Notably absent from the initial release of the game is any kind of online score ranking system. Much of the appeal of the Xbox 360 version was seeing how your scores ranked against friends from your buddy list. Noting others' performance was a significant motivator for continued play. Given that established behavior, it's unusual that this release does not include Plus+, OpenFeint, or any similar Xbox Live analog, nor does it feature Facebook Connect or Twitter integration. Given the speed at which Namco has updated and evolved some of its other titles however, we would be surprised if this was not included in a future update.