Layar Reality Browser promises an awful lot for an iPhone app. Layar B.V., the developer, refers to Layar as an "Augmented Reality Browser," which for Layar, means using your iPhone's GPS and Web access to gather information and your iPhone's camera to help you approximate where something you're looking for is based upon where you are. Clever? Yes. Augmented reality? Only in the broadest sense of the term.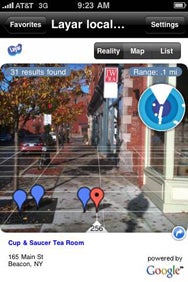 Layar offers several ways for you to find what's around you. Layar local search uses Google to locate specific businesses or landmarks. So you can type "restaurants" into the search field and define a radius of anywhere from 82 feet to 6.2 miles, and Layar will search Google, find local restaurants, and display them on a grid on top of a live picture of whatever you have your camera pointed at. Point your camera at the street in front of you, and those pinpoints will relate to the approximate place where you'll find the restaurant that appears on the screen, giving a you a kind of "walking guide" to what you're searching for. Or, if you prefer, Layar can present what it found in either a list view or by displaying pinpoints on a normal Google map.
Beyond local searches, Layar has two buttons—one for featured searches and the other for searches that are currently the most popular. Among Layar's many featured links are an In-n-Out Burger locations, golf courses, and a flu shot Finder. Among the more interesting popular searches were WorldPeaks, which had no problem pinpointing the 4-5 peaks behind my house; a vessel tracker, which was supposed to be able to locate ships currently on nearby major waterways, but which never located the 20 or so ships that travel past my town every day on NY's Hudson River; and a Bands In Town Layar that can show you when and where bands are playing near you.
This app does have some pitfalls, chief of which is the likelihood that you'll walk into someone of something while you're gazing at your iPhone's screen. I have some experience with this, as I very nearly ran into three or four not-too-pleased people while I cruised up and down the street. (And if you think texting while driving is bad, Layaring and driving is guaranteed to land you in a ditch or worse!) The other, large pitfall is the drain Layar puts on your battery. Twenty to 30 minutes of walking around sucked about a third of the life out of my fully charged battery. This, I presume, is due largely to the fact that Layar is using your camera, GPS, and 3G network all at the same time. (And only on an iPhone 3GS—Layar doesn't work with older phones.)
Layar is an interesting and mildly entertaining app that gives dimension to what are otherwise pretty two-dimensional Web searches. But it's also the kind of app that is handled with more aplomb, and not nearly the battery suck, of apps like Where To? Unfortunately, Layar's battery suck is a little too hefty for me to consider using it on a regular basis.
[ Jeffery Battersby is a writer, (smalltime) actor, and regular contributor to Macworld.]