Every year, we see hundreds of Mac products. On the hardware side, you've got Macs, iPhones, and iPods, of course, but also printers, hard drives, displays, cameras, camcorders, keyboards, mice, speakers, headphones, routers, scanners, and more. In software, the variety is even more staggering, from OS X itself to the Mac Gems that Dan Frakes regularly reviews. Every year, a few of those products stand out—for usefulness, value, innovation, or just overall excellence. Those are the products that are nominated for our Editors' Choice Awards.
In this year's Eddys judging, we started with a list of about 120 nominees. (We restricted ourselves to products released between November 1, 2008 and November 1, 2009.) We then met repeatedly to discuss those candidates and debate their merits. Over the course of several weeks, we winnowed the list repeatedly. In the end, we were left with just the ten hardware and 13 software products listed below—the products that truly deserve recognition as the year's best and, so, deserve our Editors' Choice Awards. (For more visual versions of this list, see Macworld Editors' Choice Awards: Hardware and Macworld Editors' Choice Awards: Software.)
Mac mini
The first Mac minis, released back in 2005, were several things at once: credible low-price computers, supercompact, and an obvious attempt to lure Windows users over to the Mac side. Many of us became instant fans. But then Apple seemed to give up on the mini. The company released a few updates over the following two years, but the Mac mini line essentially stagnated. That led many admirers to wonder whether Apple's smallest computer was headed for the dust bin, a cute but failed experiment.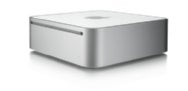 Then in March 2009, a full 19 months since Apple had offered an update to the mini line, the company introduced its biggest Mac mini update ever ( ) ( Best Current Price): faster CPUs, more RAM, a new graphics chip, dual video outputs (including support for Apple's 30-inch Cinema Display), larger hard drives, FireWire 800, more USB ports, 802.11n wireless, Bluetooth 2.1, and an 8X SuperDrive. In other words, nearly every feature of the mini was upgraded significantly, while the prices of the two models were unchanged.
And just seven months later, Apple updated the mini again ( ) ( Best Current Price), increasing processor speeds, adding still more RAM and (on the low-end model) switching to a larger hard drive. The mini is the forgotten Mac no more: You won't find another name-brand computer with these specs in this small a package at these prices.
Apple didn't just bring the Mac mini line up to speed. In October, the company also released a completely new configuration, the $999 Mac mini with Snow Leopard Server ( ) ( Best Current Price). It's essentially the $799 mini with a second 500GB hard drive (it has no optical drive) and preloaded with Mac OS X Server ( ); that software normally costs $499 all by itself. It is a full-featured, unlimited-user server in a tiny, energy-sipping package that is ideal for small businesses, some homes, and the education market.
The past year proves that Apple does indeed care about the Mac mini and, in fact, is using it to push the compact-computer envelope. The mini isn't for everyone; it's the least-powerful Mac—laptop or desktop—that Apple offers. But it's an extremely impressive machine for the size, and it's a good fit for both switchers and people on a budget. It also makes a great second Mac, and it's an appealing option for a Mac-based media system. This year, we were glad to see that the Mac mini is still very much alive.—Dan Frakes $599 to $999; Apple
iPhone 3GS
We'll admit it: Even in the Macworld offices, the name of Apple's latest smartphone was cause for eye-rolling. But once we'd used the iPhone 3GS ( ), we had to admit: The 'S' does indeed stand for speed. There's no question the 3GS is significantly snappier than its predecessor.
After speed, the iPhone 3GS's other big improvement is its camera. While the cameras on the first two iPhones were good enough for quick snapshots, the 3GS upgraded its hardware to a respectable 3 megapixels, and added autofocusing and the ability to focus on a particular spot by tapping on the screen. A macro mode that lets you take close-up pictures is also a welcome enhancement, both for taking pictures and ancillary uses such as scanning bar codes.
The iPhone 3GS's camera also finally brought video recording to the iPhone. While it may not give you the high-definition quality you can get from some of today's pocket camcorders and digital cameras, the 3GS gave new life to the old adage, "the best camera is the one you have with you." With an iPhone 3GS in your hand, pocket, or shoulder bag, you can shoot a video clip of your kids and upload it to YouTube faster than you can say "iPod nano." Other tweaks we liked: A long-awaited and surprisingly good voice-command feature, a much-needed oleophobic screen, and a compass that we suppose somebody must have wanted.
The iPhone 3GS still isn't perfect, of course. Sure, it supports the faster 7.2-Mbps HSDPA 3G standard. But given the glacial pace with which AT&T rolled out support for MMS and the fact that tethering is still missing, we'll likely see an iPhone 4G from Verizon before most of us here in the United States can take advantage of the 3GS's full potential on AT&T. Still, there's no question that, for the third year running, Apple's upped its game and once again produced the best iPhone yet.—Dan Moren $199 (with a two-year contract); Apple
iPod Touch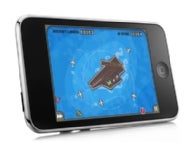 This year's iPod touch ( ) ( Best Current Price) isn't remarkable for its improved speed or slew of new features. Rather, the iPod touch earns an Eddy this year simply for its outstanding rightness.
Sure, you might take the nano or shuffle to the gym, and the iPod classic holds more media. But I'd bet that even if you were lucky enough to own every iPod model on the market, the touch is the one you'd use the most. It's the iPod you'd turn to when you want it all—music, movies, TV shows, podcasts, audiobooks, e-mail, Web browsing, stocks, weather, maps, contacts, calendars, and, most importantly, apps, apps, and more apps.
While the rest of the world was squashing full-size computer apps into pint-size netbooks or bolting computer-ish features onto media players, Apple created a powerful pocket computer that also happened to be a hell of a media player and portable gaming device. In other words, Apple got it right.—Christopher Breen $199 to $399; Apple
MiFi 2200
At this point, Wi-Fi seems to be everywhere—in airports, cafes, hotels, and other public places where computer users collect. But there are still plenty of places where there's nary a hotspot to be found. A few years ago, we started seeing a solution for such coldspots: 3G modems and routers, which let you get online from almost anywhere you can get a cell phone signal. That technology has been evolving; this year we saw one of the nicest developments yet: the MiFi 2200 ( ).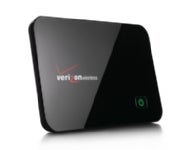 Developed by Novatel Wireless and sold by several wireless carriers, the MiFi 2200 started popping up all over the place this year. One reason it seemed to catch on was its size: at 3.5 by 2.3 by .4 inches, it's about as tiny as a bite-size chocolate bar, small enough to stash in your pocket.
The MiFi 2200 is also about as easy to use as a tech product can be: Press the power button on the top and it connects to your carrier's cellular network. The SSID and password are on the bottom. You can share its access with up to five users at a time. Despite its size, the MiFi 2200 is a fully configurable Wi-Fi base station. Using its Web interface, you can give it a new SSID and password, limit access, adjust TCP/IP settings, and check on signal strength and battery life.
By making useful technology ultraportable, the MiFi 2200 became one of our favorite products of the year.—Dan Miller $80; Verizon Wireless
Canon Powershot SD780 IS
In the crowded point-and-shoot market, it's hard to find a camera that's very good at everything. But the PowerShot SD780 IS ( ) ( Best Current Price) is.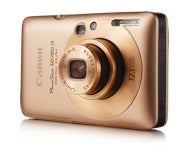 The 12-megapixel SD780 IS received some of the highest marks for image quality of any point-and-shoot that we reviewed in the past year. Its color accuracy and sharpness are both excellent, and it keeps the noise down in low-light and high-ISO shots. It also captures video at 720p HD resolution. At the same time, the SD780 is admirably easy to use, with intuitive, easy-to-navigate menus, and a nice 2.5-inch LCD. The camera's optical viewfinder—a rarity in point-and-shoot cameras these days—makes it easier to frame shots in bright sunlight. And the camera is still small enough to carry with you everywhere.
Combine those features and that ease of use, and you've got our favorite point-and-shoot of the year.—Roman Loyola $250; Canon USA
Panasonic Lumix GF1
If you want the power and flexibility of an SLR without the size and weight of one, then Panasonic's Lumix GF1 ( ) ( Best Current Price) can offer you an enticing compromise. It also happens to be a great camera.
The body of the 12-megapixel GF1 is roughly the size of a point-and-shoot. But unlike those compact cameras, the GF1 lets you use interchangeable lenses and includes an SLR-size image sensor—resulting in top-notch photos, even in relatively low light. The GF1 also records 720p high-definition video, shoots in Raw mode, and offers a full set of manual controls.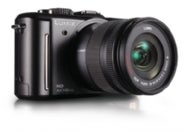 Like other cameras in this class, the GF1 achieves its small size by omitting a mirror box. That means it also lacks an optical viewfinder. Instead, you'll have to rely on the 3-inch LCD on the back (or shell out extra cash for an add-on accessory). That might turn off some buyers, but some people upgrading from a point-and-shoot might not even notice: Many compact cameras already leave off the viewfinder.
Although it's not the first Micro Four Thirds camera on the market, the GF1 is the smallest one in the category—and the first one that we think really gets it right.—Kelly Turner $900; Panasonic
HP Photosmart Premium Web C309
Multifunction printers would seem to be pretty moribund: They print, scan, make copies, and sometimes fax. But with the Photosmart Premium Web C309, Hewlett-Packard says that these machines can do more.
The Web C309's coolest trick is that it supports HP's Print Apps. The Coupons.com app lets you print coupons before you go shopping; the Fandango app lets you buy and print movie tickets at home. There are 15 apps now, with more on the way.
At the same time, it is a completely capable MFP, with a 100-sheet input tray, an automatic duplexer, a PictBridge port, and memory card slots. It prints plain text at 8 pages per minute and graphics at 3.7 ppm. With the Web C309, HP proves that there is still innovation to be found in the printer market.—Roman Loyola $400; Hewlett-Packard
Iomega Home Media Network Hard Drive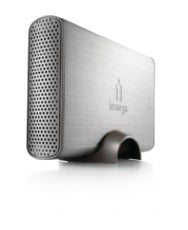 Many vendors offer networked home media servers. But only one of those products earned an Eddy this year: The Iomega Home Media Network Hard Drive ( ) ( Best Current Price). It did so by taking the best features of its competitors and packaging them in a single, easy-to-use device..
Like other media servers, the Iomega Home Media drive stores your music, videos, and photos in one place, where they're accessible from any Mac or PC on your network. It has its own iTunes server, remote access capabilities, and support for Time Machine and BitTorrent.
Unlike some of its competitors, the Iomega Home Media drive is easy to set up and manage. It's that last bit that makes it one of our favorite products of the year.—Chris Holt $150 to $350; Iomega
Flip MinoHD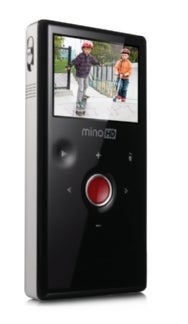 In 2009, it seemed you couldn't turn around without tripping over a new HD pocket camcorder. Kodak, Creative, Sanyo, and others all released some of these miniature moviemakers. But Pure Digital (now a part of Cisco) really defined the category, repeatedly releasing ever more capable models. Our favorite: the $230 Flip MinoHD ( ) ( Best Current Price).
While most pocket camcorders are studies in compromise, the MinoHD offers a great blend of features and performance. It's easy to operate and solidly built, includes a bright 2-inch display, shoots up to two hours of 720p high-definition video, and includes an HDMI video port. It shoots well in low light and gets colors and tone right under most shooting conditions. Like the other Flips, the MinoHD includes the FlipShare software, which lets you jack the MinoHD into a powered USB 2.0 port, extract video, perform basic edits, and upload the results to your favorite video-sharing service.
In a crowded field, the Flip MinoHD clearly stands out.—Christopher Breen $200 to $230; Flip Video
Bamboo Fun
Tablets aren't for everyone. But whether you're a digital artist or just a regular user who'd like to use a pen instead of (or in conjunction with) a mouse, you should take a look at Wacom's Bamboo Fun tablet ( ) ( Best Current Price).
The Fun can serve as a giant multitouch touchpad: Press one finger to the tablet to move the cursor; press two to perform gestures. Its pen is unbeatable for graphics work. It offers 1,024 levels of pressure sensitivity—invaluable for creating subtle effects in apps that support pressure sensitivity.
Put simply, the Bamboo Fun is one of the most innovative input devices we've come across in a while; it may be the nicest graphics tablet we've ever seen.—Jackie Dove $199; Wacom
BusyCal 1.0
While iCal is enough for many Mac users, for many others it really isn't. But when you outgrow iCal, where do you go? The answer for most would-be switchers has been "nowhere"—until BusyMac released BusyCal 1.0 ( ).
Billing itself as "iCal Pro," BusyCal's interface does look an awful lot like Apple's own software at first glance. But under the surface, BusyCal offers features iCal can only dream of. For example, out of the box it syncs with Google Calendar, with support for offline editing and syncing alarms from Google events. If Google Calendar isn't your cup of tea, you can also share your calendars between multiple copies of BusyCal on a local network, via Bonjour. There's support for multiperson editing. And because BusyCal uses Mac OS X's Sync Services system, it can also seamlessly transfer your data to MobileMe and the iPhone, letting it effectively slip in and replace iCal without your missing a beat. There are plenty of other nice touches, including rich-text support, embeddable sticky notes, location URLs for events, a handy list view, and integrated weather forecasts.
The sum of these improvements is a product that many of us have made our default calendar program. It did more than revive a dormant product category; it established itself as the category leader.—Dan Moren $40; BusyMac
Bento 3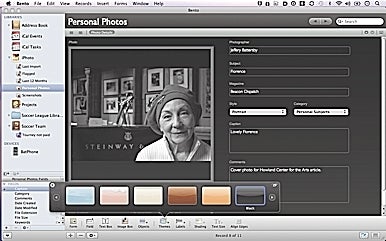 When FileMaker introduced Bento in 2008, the personal database application had just about everything a casual user could want for organizing data, from pre-assembled templates to dynamic access to Address Book, iCal, and Mail data. About the only flaw—and it was a doozy—involved Bento's pricing: users who bought the original Bento 1 had to pay the full $49 price tag to upgrade to Bento 2. FileMaker took a lot of heat for that decision, but to its credit, the company listened to the critics. When Bento 3 ( ) debuted this past fall, FileMaker offered a $20 rebate to all existing users.
But there's more to this latest version than a reasonable upgrade policy. Bento 3 added iPhoto integration and the ability to share data with others on your local network—both welcome additions. With the addition to 128-bit AES encryption to secure that data, Bento continues to set the standard for personal database programs.—Philip Michaels $49; FileMaker
Dropbox
These days, we all have files all over the place—our computers at work and home, desktops and laptops, Macs and PCs, and even iPhones. Keeping track of which files you've stored where and making sure you have the files you need when you need them can be a hassle. Dropbox solves this problem by giving you access to files no matter where you are or what device you're using.
Once you install the free Dropbox app on your Macs and PCs, you throw the files you want access to into your Dropbox folder. They're then automatically synced to other machines on which you've installed the app; it's also stored on Dropbox's remote servers. So even if you're on a friend's computer, you can still log in to the Dropbox Website and get your files that way. The free Dropbox iPhone app gives you direct access from your phone.
Dropbox does more than sync files. It also keeps track of changed documents, so if you need an older version of a file from the last 30 days, you can get to it. Or, if you want to share a file with others, you can drop it in the Public folder; Control-click (or right click) on the file in the Finder, and you can copy a download URL for pasting in e-mail, Twitter, or Facebook. Dropbox also supports easy photo galleries: Just drop photos into the Photos folder.
In addition to all that, Dropbox is free to try. The trial account gives you 2GB of storage. Beyond that, it's $10 a month for a 50GB account, $20 a month for 100GB. It's one of those services that, once you use it, you wonder how you did without it.—Jason Snell free to $20 per month; Dropbox
Things 1.0.4
Everyone has things they need to get done. So the fact that there are scores of to-do-list programs for the Mac should come as no surprise. Some of these programs are simple but limited; others are very powerful but require hours of study just to get started. Of all the task-management programs we've seen, Things 1.0.4 ( ) strikes the best balance between power and usability.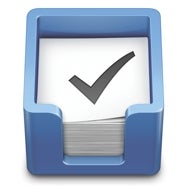 Things lets you define multiple to-do lists (which it calls projects). These lists can contain one-off, repeating, and scheduled tasks; the Projects view graphically displays your progress on each. There's also a general inbox for uncategorized tasks, along with a unique Today view that includes items you've manually marked for completion today, as well as Project items that are due today. You can attach notes, links, and tags to individual tasks, and then search for that data; you can filter any view by tag, schedule, or both. The nice thing is that if you don't want to use these features, you don't have to. Things also has an excellent iPhone counterpart, the $10 Things app, which syncs with the Mac version.
Of course, everyone has specific needs and preferences that will steer them toward a particular to-do-list program or another. But Things' combination of ease of use, great interface, and flexibility make it as close to the ideal Mac to-do app as we've seen.—Dan Frakes $50; Cultured Code
PDFPen 4.5
When it comes to modifying PDFs, SmileOnMyMac's PDFPen 4.5 ( ) fits neatly between OS X's free Preview and Adobe's $449 Acrobat Pro ( ). At only $50, it goes well beyond Preview's PDF processing power, yet it offers some of the same features you'll find in the much more costly Acrobat Pro.
It enables you to insert images, text boxes, comments, and links to other pages in the same document. You can also remove the background color from imported images (great for inserting your signature into documents), edit text, and draw almost any shape. PDFPen 4.5.2 adds an improved OCR engine, better scanner support in Mac OS X 10.6, and multicolored highlighting.
PDFPen may not be the most exciting product among this year's Eddys, but it's certainly one of the most useful.—Rob Griffiths $50; SmileOnMyMac
ClickToFlash 1.5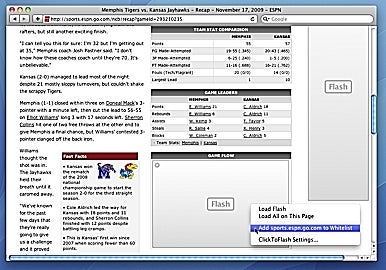 Adobe Flash is the Web technology we love to hate. It brings browsers to a crawl, reduces battery life, makes laptops overheat, and is reportedly the number one cause of application crashes in Mac OS X.
You can't just block Flash outright; it's sometimes useful. That's why we love ClickToFlash. Used in Safari, it replaces each bit of Flash content on a Web page with a plain-gray box. To view that Flash content, you click on the box. In other words, ClickToFlash lets you choose what Flash content you view.
Best of all, ClickToFlash is not a hack; it's an official Internet plug-in. For many of us, ClickToFlash brings some much-needed sanity back to our Web browsing.—Dan Frakes free; ClickToFlash Team
Braid
Every few years, a game comes along that pushes the Mac gaming industry in an exciting new direction. Braid ( ) is that game this year.
It's a complex, genre-defying masterpiece, hard to label and even harder to beat. The premise is simple: You guide a character (Tim) through obstacles, collect puzzle pieces, and rescue The Princess from a "monster." But the more you play, the more the questions pile up: Did Tim lose his love or did he forsake it? Does the Princess even exist? Why can Tim manipulate time? Braid does everything good entertainment should: it captivates you, tantalizes you, and keeps you coming back for more.—Chris Holt $15; Braid
RipIt
By now, you probably have a decent collection of DVDs at home. But those discs have their downsides: They're easy to lose and damage, and they take up lots of shelf space; playing them on a laptop eats up precious battery life; and (because of copy protection) you can't easily watch them on an iPhone or Apple TV. Thankfully, The Little App Factory's $20 RipIt ( ) addresses all of those problems in one easy-to-use app.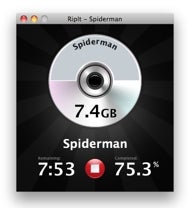 Using it is as simple as inserting a DVD into your Mac's optical drive, clicking Rip, and then going for a walk. When you get back, you'll have a bit-for-bit copy of the DVD—in the form of a VIDEO_TS folder—stripped of all copy protection. You can then put that folder on your iMac's hard drive for safe keeping, on your MacBook Pro for on-the-road viewing, or on a DVD as a defense against your kids' jam-covered fingers. You can also send that folder to another application that will convert it into something you can watch on your Apple TV, iPhone, iPod, or other device.
True, if you just want to convert a DVD for an iPhone or Apple TV, the free HandBrake can usually handle decryption as well. But, because RipIt's updated frequently, it works with movies that can trip up HandBrake and MacTheRipper; it boasts a 99.9999 percent success rate with support for 117,000 different discs. In other words, it just works.—Jonathan Seff $20; The Little App Factory
Logic Express 9
Ask the typical passer-by to couple the word "starving" with a profession and, just as typically, "musician" will be the response. Which is why we'd like to honor Apple's Logic Express 9 ( ), a workhorse bargain.
What makes it such a deal isn't so much the price tag as it is the value you get for your money. New in this year's edition, and adding to the program's already impressive feature set is the following: The Amp Designer feature, which lets you mix and match 25 speakers and amps (and "record" the results with three different microphones); Flex Time, which allows you to easily shift audio tidbits to change the rhythmic feel of a phrase; Pedalboard effects that provide players with virtual "stomp boxes" that can be triggered in real time with a MIDI or USB controller; Varispeed recording for slowing down a project so you can more easily play a tricky solo; and a Drum Replacer feature that allows you to use recorded drums to trigger better-sounding drum samples.
Welcome cake icing though those new features may be, the application's existing features alone make it a worthwhile investment for musicians who've reached GarageBand's limits. GarageBand may be extremely capable (and extremely free with every new Mac), but Logic Express 9 provides professional-quality tools with professional-grade flexibility. If you can't express your deepest musical thoughts with Logic Express, there's a good chance they're not worth hearing.—Christopher Breen $199; Apple
Acorn 2.1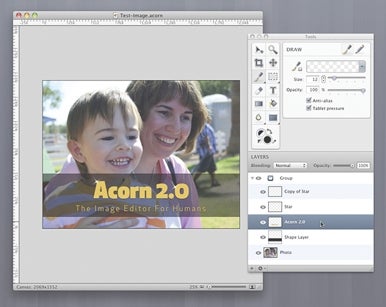 I might not know graphic layers from layer cakes, but I still have to spend some time every day working with images. And when I do, I usually turn to Acorn 2.1.
This lightweight, inexpensive image editor has all kinds of features that you might expect to see from a professional-level product—multilayer editing (including layer groups), vector shapes, and a boatload of snazzy filters. Its smart crop tool and Web export feature are both invaluable in my daily work.
I'm also a huge fan of the layer-based screenshot capability introduced in Acorn 2.0; [it snaps a picture of your screen and gives each application its own layer, making it easy to isolate just the elements you want.
Added to the most recent versions is powerful scripting (via JSTalk and AppleScript) and plug-in support. Acorn is no slouch in the performance department, either, with full 64-bit support and the ability to offload intensive tasks to your Mac's graphics processor. (Those features mean the program works only with the latest version of Mac OS X, Snow Leopard.)
Acorn is notable for what it leaves out, too: a refined UI makes the program friendly and easy to use, so you don't have to go hunting for a particular feature. It may not have everything that Photoshop does, but for many of us, it has everything we need.—Dan Moren $50; Flying Meat
Picasa 3.5
At first glance, Picasa 3.5 ( ) looks like an imitation of iPhoto. But what sets Picasa apart is the ingenious way it helps you organize your photos and how nicely it works with other programs.
For one thing, Picasa frees you from the need to maintain an iPhoto-like consolidated library file. Instead, it scans your system and finds image files wherever they're saved, leaving them in their original locations. Picasa also makes it easy to upload, e-mail, and blog about your photos. Integration with the free Picasa Web Albums is incredibly convenient—you create an album, add pictures and captions, and upload. If you set an album to sync, all changes you make in the desktop app will be reflected online.
Ultimately, Picasa is about giving you power over your digital photos; it helps you manage your photos while letting you work with any other photo app you want. That light-handed approach makes it a refreshing alternative to iPhoto, and a natural Eddy winner.—Heather Kelly free; Picasa
Painter 11
Corel's Painter is designed to be the ulti-mate digital art studio. Painter 11 ( ) offers more speed than past editions, but also a slew of new brushes, resizable palettes, PNG support, and more. It's an Eddy-worthy upgrade.
Painter 11 significantly expands the RealBristle Painting System introduced in version 10, with 40 new Natural-Media brushes. When used with a graphics tablet, it recognizes brush angle and speed. There are other welcome improvements: Corel has revamped Painter's selection and transform tools, a new color-management system works more efficiently, and Painter's workspace is more intuitive.
The result is a fine improvement on an already fine product. Painter 11 is indeed the definitive painting program for the Mac.—Jackie Dove $249; Corel
FontExplorer X Pro 2.0
If you're a designer or pre-press professional, or if you just have more than a casual interest in managing your fonts, you need something better than OS X's Font Book. For our money, that something should be FontExplorer X Pro 2.0 ( ), an advanced font-management tool that's surprisingly easy to use.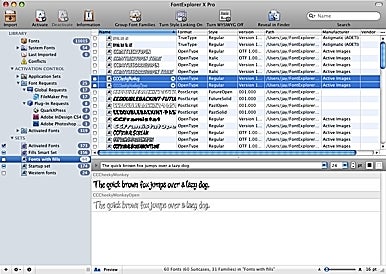 If you're familiar with iTunes, you'll immediately understand FontExplorer X. Font sets are on the left, a font list is on the right, type samples sit at the bottom, and details about your selected font are in the lower left corner. It's superfast in importing and displaying fonts in WYSIWYG mode. It surpasses other font managers in the level of detail it displays, the level of control it allows, and the ease with which it shares and exports font configurations. And almost every feature—from the details displayed in the window to the way it behaves when you add, remove, activate, or deactivate fonts—is customizable.
In other words, it's that rarest of products: Powerful enough for professionals, but simple enough for everyone else.—Jackie Dove $79; Linotype