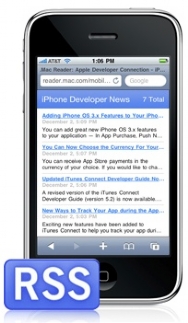 In the past, news and announcements for developers about iPhone development and the App Store has been restricted to a small pane on Apple's iPhone Dev Center site. But Apple on Wednesday turned that little pane into a full-fledged RSS feed.
While it's a more convenient way to get iPhone developer news, and it's far more likely that developers will be checking Google Reader or their RSS program of choice than loading up the iPhone Dev Center every day, it feels like yet another band-aid applied to a gaping flesh wound.
True, customers love the App Store. It's reasonably priced and the approval process (should) guarantee that apps don't inflict viruses or other nasties in your way. But think about it: How do you go about searching for apps that you'd like to try? Let's say, games in a specific genre? Board games? It's all lumped into the Entertainment category, which puts extremely well made Diablo clones right next to the likes of "Beautiful Boobs," "iFart," and Emoji apps. How about video-editing apps? That's under Photography. How about voice-recognition software? Dragon Dictation was just filed away in Business.
And that's just the tip of the iceberg. What developers really want isn't just to be informed of little changes like a brand new RSS feed—they want new categories to reflect the changing face of iPhone software, not just the exact same categories we've had since the App Store launched. They want to know more about what's going on when their app is being approved. They want to know in advance—in clear, concise terms—if Apple will not approve of iPhone apps compiled by something other than Xcode, like Unity or Flash CS5.
A simple RSS feed composed of existing headlines isn't going to fix that.