If you've been yearning for a Diablo-style role-playing game for the iPhone and iPod touch, your time has come. In Dungeon Hunter, Gameloft serves up all the hack-and-slash goodness you can handle. With stunning graphics, in-depth character development and loads of loot, this game should hit every item on your RPG wish list.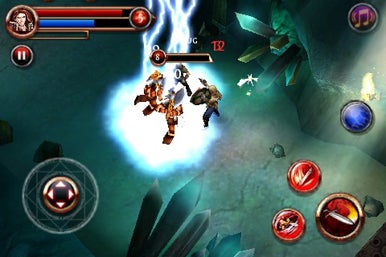 In Dungeon Hunter, you play the part of a resurrected prince on a quest to banish the evil forces from his kingdom and restore its glory. To carry out your quest, you travel across the land slaying demons, skeletons, poisonous spiders, and anything else that gets in your way; you're faced with several side quests as well. Luckily, you don't have to go it alone: you always have a fairy companion floating over your shoulder who can deliver devastating magical attacks. As you progress through the game you can choose different fairies to use—each has different abilities that are more effective against certain kinds of enemies.
At the start of the game, you choose what class your hero will be—Warrior, Rouge, or Mage. Each class highlights different abilities and fighting styles as well as unique skill trees. As your character levels up, you receive points that you can use to boost up base stats like strength, dexterity, endurance, and energy. You also get skill points you can assign to both active and passive skills. The active skills include special attacks or spells you can use in battle while the passive skills do things like increase your attack rate. The level of character development in Dungeon Hunter is enough to keep any RPG fan busy for quite some time.
Dungeon Hunter is a looter's dream with slain foes constantly dropping gold along with other goodies including armor, weapons, and potions. Many of these items have offer some nice benefits—fire resistance, chance to dodge, and so on—that allow for further character tweaking.
With gold and gear dropping around your regularly, Dungeon Hunter progresses at a nice pace—you won't need to make frequent trips back to town to restock. By the time you finish a particular dungeon, you're leveled up and ready to move on to the next one—no grinding necessary. Your health and energy slowly regenerate over time as well, so you never end up stuck in a dungeon without enough life to fight your way out.
The control scheme in Dungeon Hunter works pretty well, with a few different layout options from which to choose. To move around, you can opt for a virtual joystick, a D-Pad, or touch controls. In the latter case, you tap a spot on the screen and your character will walk there. Each option worked well, but I prefer the virtual joystick.
You've also got a button for attacking with your weapon as well as a few action buttons assigned to different skills you have. These skill buttons can either be spread out around the attack button or grouped together. When they are grouped together you just swipe left or right to scroll through them. With all the different items, skills, and stats your character has, Dungeon Hunter features a lot of menus. Luckily, they're all easy to navigate and understand—even if they're a little cramped with some small buttons.
Dungeon Hunter boast some stunning graphics. The dungeons are lit by torches or rays of light filtering down from above and the forests and towns have birds flying around and rivers of flowing water. The glowing visual effects of attacks and spells look fantastic as do the different monsters and characters in the game. Adding to the game's ambiance is a great soundtrack and really cool sound effects. Between the amazing graphics and sound, it's easy to become instantly engrossed in the world of Dungeon Hunter.
Dungeon Hunter is a excellent game that really pushes the platform to the next level. Available for $5 at the time this review was posted (with a free version that lets you sample the first level), Dungeon Hunter is a must-have for any fan of action RPG games.
[Tim Mercer is a technology enthusiast, graphic designer, and blogger, whose blog, digital-artist-toolbox.com, offers free resources to the digital artist and graphic designer.]