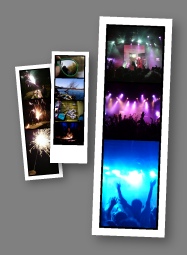 Hard copy is a lost art. Now that everything from photography to animation is done digitally, the days of the photo booth and the Polaroid camera appear to have passed us by. Photo printers can help recreate the experience, but the rising cost of ink cartridges has made them a very expensive investment. What if there something that required less of a commitment, short of borrowing your friend's printer to print off "just a few pages"?
Shutterfly has launched Wink, a web service that hopes to easily bring digital photos to printed material. With Wink's iPhone app or its Website, you can make simple adjustments and send 2×6 prints of your photos to your friends worldwide. Each print consists of three to five photos, and photos can be imported directly from your iPhone Camera Roll, computer, Facebook, or Flickr.
If you don't know where your friend actually lives in today's predominantly online world, Wink provides the convenient option of asking your friend via e-mail for an address to ship your photos to. Who says anonymity on the Web is dead?
Shutterfly is giving the first 50,000 users of Wink's iPhone app three free prints. After that, the app itself will remain free while the prints cost $2.50 each. The iPhone app is called "Wink | by Shutterfly", because (alas) "Wink" was already taken. It requires iPhone OS 3.1.2 or later.