Reader Don Felton enjoys the wildlife around his home, but finds it difficult to capture it. He writes:
I share the area in which I live with a variety of animals—squirrels, birds, coyotes, rabbits, and deer. I'd like to take pictures of some of them, but I can't get close enough to do it without scaring them off. I have a lot of technology here and I can't help but think that there must be a way to use it to snap a few photos from a distance, right?
Hardly Mac-related though your question is, I'm intrigued. As the photos below illustrate, I too have a share of critters roaming my neck of the woods. Here are a few things I've learned when photographing the local fauna:
Find an attractant I can't believe that my neighbors are happy that the cat food I leave out at night is sustaining (and likely, growing) a population of raccoons and skunks, but there's no question that it provides me with many more opportunities to shoot the little suckers with a long lens through a convenient window. Hummingbird feeders placed in front of windows are a far more socially acceptable attractant.
Shoot remotely
Animals pay very little mind to cameras mounted on a sturdy tripod as long as there's no human being crouched down behind that tripod. If you have a camera compatible with a remote control, consider picking one up and using it. With such a control you can be inside, firing away as the animals go about their business. (If shooting this way, switch off the camera's beeps, clicks, and flash, if possible, unless you're keen on taking pictures of an animal's back side.)
Consider light If the area you're shooting is soon to be populated with skunks, raccoons, bears, or badgers, you don't really have the freedom to waltz outside once the action begins to adjust the camera's exposure. Take a few test shots in an un-crittered environment with similar lighting conditions, adjust your camera to bring in more light or greater or less depth of field, and then try the real thing.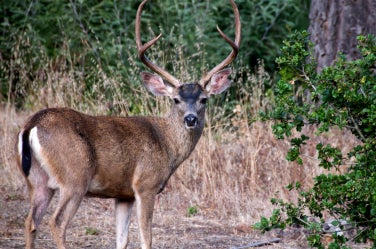 Know your subject
You'll have far more success if you understand the habits of the creatures you're trying to photograph. Hummingbirds, for example, are very territorial and will chase their fellows away from a favorite feeder. However, at around sunset, they're far more willing to share the wealth as they want their last meal of the day as much as the next bird. And they're not shy about getting it. I've fired up to 20 flashes at a single bird and it came back time and again.
Chickadees are nervy and will often be the first to return to a feeder after you've scared birds off while setting up a camera. When you've moved to a safe distance with remote in hand and see chickadees, you can be pretty sure that other birds—who use chickadees as scouts—will soon join in.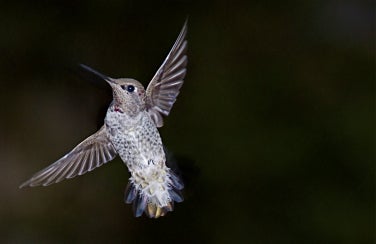 Skunks and raccoons operate almost exclusively at night, but you're more likely to get a skunk in summer before the sun goes down. Skunks have terrible eyesight so if you happen to be caught outside with one while setting up your camera, stand still and be quiet and it will likely walk right past you. (If it does see you and is concerned, it will often lunge at you a couple of times before it sets up to spray.)
Try video I have a decent collection of pocket camcorders that can shoot an hour or more of video. A half hour or so before I expect animals to arrive I set one down, point it at the food source, switch on an outside light if I deem it necessary, and press the Record button. In most cases, the storage runs out before the battery dies. I then import the footage into my Mac, open it in QuickTime, and scan through it to see if I've grabbed something worth keeping.
Our forums are full of shooters far more capable than I am. If you have some critter capturing tips of your own, please avail yourself of the Comments area below.