Are you excited to share photographs with friends and family, but want to give them something more substantial than just a holiday card? There are many custom printing companies that can create and ship a variety of gifts featuring the photos of your choice. But if you're planning on sending a calendar, scrapbook, photo book, t-shirt, puzzle, skateboard, or other personalized photo gift this year, the deadlines for placing orders are creeping up. Here are some of the more popular printing companies' ordering deadlines for getting products to their shipping destination before December 25th. Typically, orders must be placed by 4pm EST on the day listed, but check each site for details.
iPhoto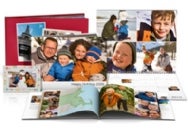 You can order custom printed goods directly through iPhoto, including photo books (hardcover, softcover, and wire-bound), wall calendars, and cards. We have some helpful advice to get you started with the design process, including tips for iPhoto '09 users who want to include maps. Once your design is ready to go, you can place your order. Standard shipping deadline for iPhoto products is December 18th, but if you want to pay more you can request express shipping on orders placed as late as December 19th.
Snapfish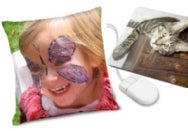 Snapfish offers the usual suspects—books, calendars, prints—as well as a large selection of more unusual photo gifts. You can create a puzzle of your family photo, aprons staring the family dog, or a pillow case covered in grandchildren. Deadlines vary depending on the product (the more complex the product, the longer it takes), but the most pressing date is December 12th. Check out a full list of what Snapfish offers and its standard, 2-day, and overnight shipping deadlines. At the very latest you can order simple prints and books by December 21st if you opt for overnight shipping.
Photoworks
If you are planning on ordering a custom bag or throw blanket covered in a collage of your Vegas elopement from Photoworks, you better hustle. The standard shipping deadline for these products passed December 4th, but if you place your order by December 12th you can get it shipped overnight. If you're leaning towards clothing, magnets, mugs, jewelry, or other photo gifts, order by December 11th for standard shipping, December 16th with overnight shipping. Books and calendar deadlines are December 10th for standard shipping and December 15th with next day.
Photoworks' ordering deadlines
Shutterfly
You have until December 19th to pick out the absolute best photos to fill a photo book or calendar ordered through Shutterfly; the 21st if you feel like living on the edge and paying for next day shipping. Order a mug with your mug on it or stickers of your sisters by December 14th. The shipping chart on Shutterfly's site says almost every product can be ordered on the 21st and delivered by Christmas, but that's no excuse for procrastinating.
Shutterfly's ordering deadlines
Zazzle
Prepare to be sad: It is too late to order custom photo shoes from Zazzle. I'm sorry. But now that you know they exist, you should get started designing some Valentine's Day slip-on Keds for your sweetie. Plenty of other photo gifts are still available, including sweatshirts, pet clothing, and embroidered products. Order your skateboards, calendars, and embroidered goods by December 15th with ground shipping (20th with next day air); most other products should be ordered by the 17th (22nd with next day air). Give yourself extra time to play around with Zazzle's fun interactive design tools.