At a Glance
Expert's Rating
Pros
Very good overall image quality
Built-in transparency adapter
Our Verdict
HP's Scanjet G3110 is a flatbed scanner with a built-in transparency adapter suitable for small slide and film scanning projects. The scanner features an optical resolution of 4800 dpi and 48-bit colors. And while its color accuracy and ability to capture fine detail were impressive, its scan speeds were anything but.
The G3110 has a dark gray body and a shiny and curved, off-white lid. Four buttons built into the lid allow you to scan to file, PDF, to email or to a printer (copy). The transparency adapter allows you to scan a single 35mm filmstrip or four individual slides. You connect the scanner to your Mac via USB 2.0.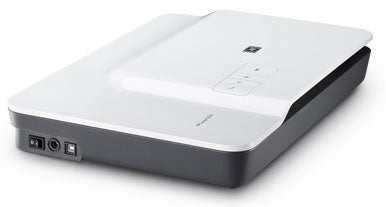 HP's scanning software strategy can be a bit confusing. Stand-alone scanners continue to use HP Scan software under Snow Leopard, though the scanners in HP's MFP's rely on OS X's Image Capture app for Snow Leopard scans. HP's standalone scanners curiously don't support Image Capture.
Jury tests: Scan
| | |
| --- | --- |
| Color | Very Good |
| Detail | Very Good |
Scale = Superior, Very Good, Good, Fair, Poor
Using HP Scan can take a little getting used to, as it operates differently than most scanning applications. Instead of starting with a low resolution preview scan that you apply crops and adjustment settings to before performing your final scan, HP scans the whole 8.5 by 11 inch scanning bed. You then make your adjustments and save the file.
While the HP software worked just fine during our evaluation, this scanning workflow probably contributed to its lagging scanning times. It took the Scanjet G3110 1 minute and 50 seconds to scan an 8 by 10 inch color photo at 600 dpi and 48-bit color. Competing scanners we've tested recently took about 40 seconds to complete the same scan. A 4-by-6 photo scanned at 1200 dpi and 48-bit color took 2 minutes and 32 seconds, a task that other scanners completed in about 1 minute 18 seconds. A transparency scan of a 35mm slide at 2400 dpi and 48-bits took 5 minutes 15 seconds.
The good news is that the resulting scans were of impressive quality. We printed our test scans on Epson's Stylus Photo 2200 color inkjet printer, and the results showed that the G3110 did a very good at capturing both color and fine details. Colors in a scan our standard 8-by-10 test photo were very close to the original and many of the details were captured, even those in shadow areas that many scanners struggle with. A scan or our resolution test chart also showed the G3110's ability to resolve very fine lines. Even the transparency scan was impressive, not requiring the kind of image editor tweaks that many flatbed transparency scan need.
Timed trials
| | |
| --- | --- |
| 8 by 10 color photo (600 dpi) | 1:50 |
| 4 by 6 color photo (1200 dpi) | 2:32 |
| Grayscale chart (1200 dpi) | 5:02 |
| One-touch scan (300 dpi) | 0:43 |
Scale= Minutes:Seconds
Specifications
| | |
| --- | --- |
| Scan resolution: Optical | 4800 dpi |
| Max scanning bit depth | 48 bit |
| Connection | USB 2.0 |
| Scan sizes | 8.5 x 11.7 |
| Dimensions (inches) | 12 x 17.9 x 2.8 |
| Special features | Built-in transparency adapter |
Macworld's buying advice
If you're in the market for an affordable photo scanner with the ability to capture accurate color and detail, along with the occasional slide or film scan, the HP Scanjet G3110 is worth considering, especially if you're not in a hurry.
[James Galbraith is Macworld's lab director. Product photo by Peter Belanger.]