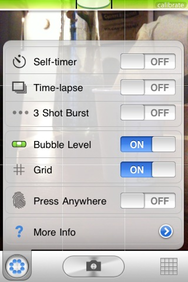 Holiday time is here and what better way to remember it all than by using your iPhone to take shots of yourself with family and friends? Joby, Inc. has released Gorillacam, a free app that helps you to do just that. Gorillacam enhances the iPhone's built-in camera features, adding, among other things, a self-timer with an audible countdown (read: loud and annoying—but definitely a sound that you won't miss over the roar of the holiday table.)
Of course, putting yourself in the picture with an iPhone is still a trick without a tripod, and Gorillacam is clearly designed to work with Joby's flexible mobile device stand, the Gorillamobile, as well as other tripods and stands.
If you don't have a tripod, Gorillacam has other features that will help you photograph yourself, as well as your nearest and dearest. If you love holding the iPhone out just as far as your arm can stretch in order to snap a self-portrait—great practice for avoiding reading glasses!—but then find it tough to locate the shutter button, you'll appreciate the Press Anywhere feature.
To deal with the talkers and blinkers in the family, the time-lapse feature provides a wide range of options, from one second to two minutes apart, for three to two hundred photos (not that I'd ever want that many shots of my holiday group!). Other handy features for handheld shots include a bubble-level for both vertical and horizontal orientations, and a grid overlay that will help you compose your shots—if not yourself.
Gorillacam requires an iPhone running OS 3.1 or later and is a free download from the App Store.