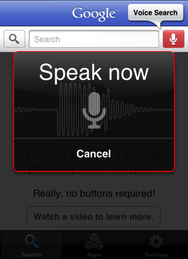 Google has released a new version of its Google Mobile App for the iPhone, providing support for additional languages and a customizable appearance.
The new version of Google Mobile comes with a "bells and whistles" screen that allows users to change the app's looks—including an optional "Live Waveform" rendering of the user's voice during a voice search. This last feature, as also noted on the Google Mobile Blog, is really intended for newer-generation iPhones. (On this reporter's older iPhone 3G, the application seemed to struggle considerably while attempting to render the waveform, although the search functionality ended up working just as well as with the function turned off).
Also new in this release is the introduction of support for multiple spoken languages—and even accents—in the voice-based search functionality. Google Mobile now supports four different inflections of English (U.S., U.K., India, and Australia), as well as Mandarin Chinese and Japanese. There is currently no official word on support for more languages.
Google Mobile App first came into the spotlight late last year for having been allowed into the App Store despite the fact that the app uses a private API to detect when the handset is in proximity of the user's face. Apple has never commented publicly about this, despite having rejected other apps for using private APIs. However, the approval of recent apps that use a private API to provide streaming video suggest that Apple does allow the use of private APIs in certain cases.
Google Mobile is available, free of charge, directly from the iTunes App Store. It works with iPhones or iPod touches running OS 2.0 or later.