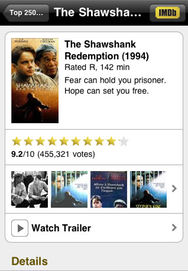 The Internet Movie Database (IMDB) has released a free iPhone app that will allow you to resolve all those endless debates about movies, TV shows, and celebrities with ease, right from your phone.
The app includes the same detailed information about more than 1.5 million movie and TV titles and 3.2 million celebrities that you can find on the IMDB Website, in a clean, easily navigable format. Other popular IMDB features are also included in the app, such as trailers, photos, quotes, trivia, plot summaries, and a synopsis, as well as birth dates and mini bios of celebrities.
If you want to leave the debates behind and go see a movie, the app will use your location to provide local showtimes. You can also enter a zip code to find a theater in another location, if you're on the move. If you prefer to watch TV, the app also offers current network schedules and recent recaps.
The IMDB app, which is currently available for United States-based users, requires an iPhone or iPod touch running OS 3.0 or later and is a free download from the App Store.