Editor's Note: The following article is reprinted from the Today @ PC World blog at PCWorld.com.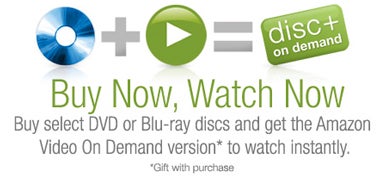 Amazon has unveiled a limited time only promotion called Disc+ On Demand that has the potential to change the way we consume media. Now when you purchase select DVD or Blu-ray discs, Amazon will also add them to your Video On Demand library so you can stream them via your Mac, PC, Roku, or TiVo, or other device (as well as download to PCs and portable players, but not Macs or iPods—here are some more movies sources for the Mac as well). This promotion is the perfect way to get a little more out of the Christmas gifts you buy for others; you get a copy of the movies as well.
As with most promising ideas, Disc+ On Demand comes with a few catches:
Amazon has only roughly 300 Disc+ On Demand titles available, out of its hundreds of thousands of DVDs.
All Disc+ On Demand files are standard definition only, so don't expect to fully utilize your 1080p display.
Videos may be either the rental or the purchase version—if it's the rental version, the terms limit customers to a 24-hour playback window within 30 days. And due to licending issues, Amazon requires a U.S. address.
Shortcomings aside, Amazon may be onto something big here. DVD sales slumped hard in 2008, and though Blu-ray has grown in popularity, digital downloads and streaming Internet video has put physical media under threat. But Amazon could rescue DVD sales with Disc+ On Demand, enticing its customers with the delicious carrot of instant gratification—a beast that emerges frequently during holiday seasons. Also, Amazon got a head-start on Best Buy's similar download service, which is due in 2010, so if this concept blows up, Best Buy might come off a copycat.
There's a lot of room for growth with Disc+ On Demand. Amazon would be smart to broaden selection, improve viewing quality, and turn Disc+ On Demand titles into permanent fixtures.
But it's the potential for offshoots and evolution that make Amazon's concept truly fascinating. A blog dedicated to eBook readers pointed out that if Amazon adds a plus sign to other forms of its media, it could have a massive success. Imagine purchasing a hardcover book on Amazon and receiving a free (or modestly priced) e-book edition of the same title. So if you don't want to always lug around all 1088 pages of Stephen King's Under the Dome, you can choose the convenient times to read it on your Kindle instead, leaving the hardcover on your nightstand, perfect for those still wary of the e-book phenomenon. The same goes for Amazon MP3. Want the CD for posterity, but also the MP3s on your iPod? Purchase one, get the other. Simple as that.
In order to make Disc+ On Demand work, Amazon needs to extend it into permanence and scrap the "limited time only" tag. Likely Amazon is reluctant to do so given the service's infancy, but if it lifts off the ground, Amazon can mature and broaden it to e-book+ On Demand and MP3+ On Demand, and truly change the game.