At a Glance
Expert's Rating
Pros
Improved GPS fix and faster refresh
Works with original iPhone, any iPod touch
Integrated hands-free calling for iPhones
Cons
Doesn't work with integrated iPod control in car stereo systems
Price of dock plus any TomTom app is quite expensive
Windshield mount has no arm, making it a long reach
Our Verdict
The TomTom Car Kit is an external GPS receiver built into the form factor of a windshield-mountable iPhone or iPod touch dock. The dock connection allows TomTom's turn-by-turn navigation software to access the dock's GPS radio, and includes a microphone, speaker, audio output jack, and charger.
Why pay extra for a GPS receiver when you have one built into your iPhone 3G or 3GS? For starters, TomTom's receiver is designed specifically to allow better reception with a different antenna design and using technology similar to that which TomTom integrates into its standalone receivers. That can help if you frequently travel routes with coverage or need to position your mount on the dashboard instead of the windshield. (In California, you can only mount something on the driver or passenger side of the interior windshield.)
The kit incorporates hands-free calling using the built-in microphone and either the integral speaker or audio output through the iPhone's stereo jack. Hands-free calling uses Bluetooth, because Apple doesn't allow audio support for calls via the dock. The TomTom dock also offers music output via an audio output jack, although that requires an auxiliary stereo input on your car stereo system. (If you have a USB-based car system with direct iPod control, you can't use it with this dock.)
Charging isn't optional. The dock must be plugged into your car power port to work. The shape of the mount makes it incompatible with any iPhone or iPod touch case I am aware of, meaning that you either have to carry your device "naked," or remove its skin when using with the dock.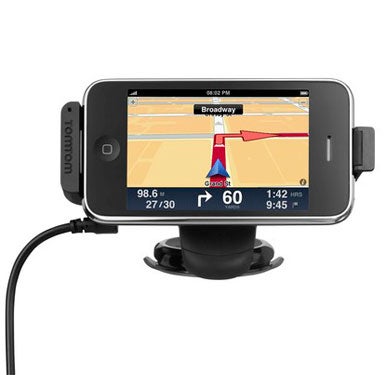 The dock works—using the 1.2 release of TomTom's iPhone apps—with every iPhone and iPod touch, although hands-free calling obviously works only with iPhone models.
The combined price of the app ($100 for North American edition, though there's now a $70 U.S.-only version) and the dock is higher than many standalone GPS devices with similar features.
In testing, I found the car kit fine, but not exceptional. It clearly did provide a boost to the GPS over the software by itself, having no trouble maintaining a fix at any time, and providing an accurate refresh. The dock made the TomTom software perform slightly better than others, but not enough to warrant the cost differential.
TomTom released a separate free app for the car kit that lets you check that it's working properly, and see a graphical display of GPS satellite signal reception.
[This product was reviewed as part of our GPS app roundup review.]