Dropbox offers a cool service that lets you store and sync files online, so that they're accessible from multiple computers. (Macworld editor-in-chief Jason Snell made a video explaining the awesomeness of the service earlier this year.) Now, with the company's free iPhone app, you can access your Dropbox files on the go.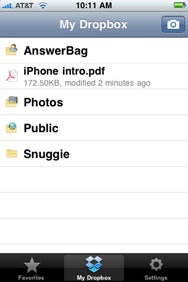 The feature list with Dropbox for iPhone is impressive: You can view all kinds of documents—Word documents, Excel spreadsheets, PowerPoint presentations—not to mention browse photos and watch videos. Most of the documents that you keep in Dropbox to share between computers can be read on the iPhone, and it's truly powerful to gain access to the latest versions of your important files, in your pocket.
Unfortunately, the app doesn't let you edit your files. While some iPhone apps— Documents To Go or QuickOffice Mobile Office Suite, to name two—let you tweak spreadsheets and word processing documents, Dropbox is a strictly read-only affair. That's a big limitation on its functionality, since it can be frustrating to see a glaring typo in the draft you're re-reading, and not be able to make the necessary change. Similarly, you can't create new text files, either. I'd love the ability to create files on-the-go that would automatically sync back to my desktop via Dropbox, but that's just not offered yet.
You can create some files, though. Any photos you snap or 3GS videos you shoot from within the app get synced automatically. If you don't use iPhoto or if you don't regularly connect your iPhone to your computer, this wireless photo syncing functionality is pretty sweet; your latest snapshots just show up on your machine, as if by magic.
Browsing photos and videos from your Dropbox is very snappy in the app. You can forget that the files are being pulled over the air, and not simply sitting directly on your iPhone. When I switched from a 32GB iPod touch to a 16GB iPhone, I had to cut the number of photos iTunes syncs to my device dramatically. With Dropbox, though, I keep access to all of my photo library, without using up space on the iPhone itself.
If you're going to be offline for a while, or just don't want to keep re-downloading a larger document repeatedly, Dropbox offers the ability to mark files as "favorites." Favorites are cached directly onto the iPhone, so they open in an instant and don't require a network connection. The next time you're online, Dropbox will put icons next to any cached favorites that have become outdated, and you sync them up to the latest revision with a single tap.
Dropbox makes it a snap to e-mail files. Tapping the e-mail button creates a new message without exiting the Dropbox app. The message body is pre-populated, featuring a link to the file in question your Dropbox. That way, you don't have to wait for an attachment to upload, and your contact can download the file directly from the Dropbox Website.
While the Dropbox Website lets you go back through different revisions of a given file, the iPhone app offers no such functionality. But the app's core feature set of being able to browse all your files and share them as needed is a great start and packs plenty of functionality at no cost to you.
[ Lex Friedman is a frequent Macworld contributor.]