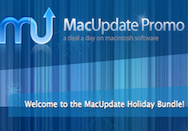 Here's your chance to snag more Mac software. Two new package deals are available for the discerning shopper: the MacUpdate Holiday Bundle and the MacFriendly Bundle. By now, many veteran Mac users have become familiar with the concept—you, the consumer, get a substantial number and variety of applications at a price that's easy on the wallet; the eager application developers who join the promotion get wide exposure and presumably a few bucks.
The MacUpdate bundle gets you Path Finder (a Finder alternative), Socialite (a social networking helper), Yep (a document manager), Radio Gaga (an Internet radio recorder), GarageSale (an eBay assistant), Drag Thing (a desktop customizer), Speed Download (a download manager), HealthNut (a calorie tracker), PCCalc (a scientific calculator), Machinarium (a puzzle game), iRip (a tool that rips songs from an iPod to the Mac). The first 10,000 downloaders also get PowerTunes (an iTunes library manager), Holiday DVD templates (enough said), and FlagIt (an app that adds colored flags to Mac Mail). This bundle runs $50 and is good until December 21.
MacFriendly's bundle includes Invoice 3 (what else but an invoice manager), Flash Decompiler (an Adobe Flash converter), TimeNet (a billing timer for businesses), Icon Commander (an icon creator), Amnesia (an application unistaller), WaterThumber (a batch processor for images), Mac Pilot (a system customizer), Singlemixer (a tool to identify duplicate files), Squish (a URL-shortener), MarketPlace (a worldwide Craigslist search tool), Emailchemy (an email manager), ForeverSave (a document restorer), and iTasksX (project management software). That's 13 applications for $50. MacFriendly says the package is worth more than $500. To make you feel even better, this Italian promoter will donate some of the proceeds towards help for homeless dogs. The bundle is available until December 29.
Buy one bundle, buy both if you like. Who knows, maybe someone on your holiday list deserves something, too.