GoodReader from Good.iWare is, at its heart, a superb PDF file viewer for the iPhone. It is also much more—an app that seems like it has so many extra features that it just has to come crashing down. But it doesn't, at least in my experience.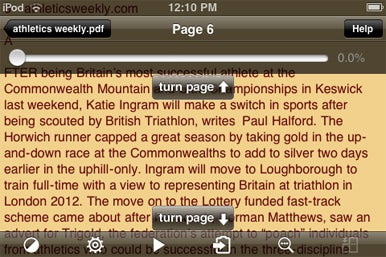 Although GoodReader's PDF file viewing experience is what really makes the program shine (more about this below), it's important to note that the app enables you to view Microsoft Word, HTML, text and image files, listen to audio files, and watch videos. You can import files into the app using a variety of methods. The easiest way had been to sync files via USB using the free companion GoodReaderUSB program (there are both Mac and Windows versions), which consists of a window into which you drag files you want to transfer to your iPhone. (Update: Unfortunately, the recent 2.4 update removed this USB file transfer feature at Apple's request. While it's regrettable that such a great feature had to go, I can hardly fault Good.iWare for having to comply with Apple's rules. As such my positive rating of the app remains the same, even after updating the review to reflect this change.)
GoodReader also enables you to transfer files via Wi-Fi, download files from the Web (via an integrated Web browser), and even access files from personal storage sites such as MobileMe iDisk, Google Docs, and Dropbox.
In my testing of the app, I found reading PDF files to be a pleasure, almost matching, in terms of straight-on reading, the experience of reading from within Amazon.com's Kindle app. I also had an easy time of accessing my Google Docs, listening to MP3 files I had transferred transferred via USB, and watching an MP4 video.
The many ways in which you can read PDF files with ease are what makes GoodReader a killer app. I transferred PDF files ranging in size from 30K to 30MB, and viewed them both as intended (basically as image files), double-tapping the screen to line up columns for optimal views, and scrolling with only a slight pause between columns and pages.
But what I found most useful is Good Reader's ability to convert PDF files into text, reformat the text into an easy-to-read (and even searchable) format, and flip through pages (with text conversion done on the fly) either with a finger swipe or by using the autoscroll function, which scrolls text automatically at a speed you pre-select.
GoodReader also enables you to e-mail files without leaving the app; you can also copy a URL that points to one of your Good Reader files and paste it into any other iPhone app that recognizes links; the link will then automatically take you to that document.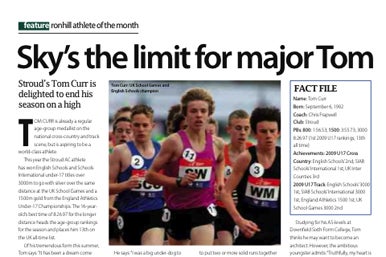 Many other features are so well-implemented that, well, you can easily forget that such elegance is hard to come by in most iPhone apps. For example, transitions between landscape and portrait viewing are very smooth. Menus are logical, easy to use, and unobtrusive when not in use, leaving you with a full-screen display. Navigation within the app uses a traditional hierarchy (folders contain files, and a single tap opens a folder and then a file), which makes it a snap to navigate back and forth between files and folders.
You can also delete, rename, copy, and e-mail files and folders via a context-sensitive Actions menu. Without even thinking about it, for example, I was able to select an MP3 file and e-mail it; while typing in the e-mail address, my address book popped up with autofill possibilities. That's the kind of possibility iPhone OS 3.0 promised, but it's rare to see this kind of tight integration implemented this well.
The more I used GoodReader, the more I discovered it was capable of doing. But its basic file transfer capabilities are top notch. And it's the reading experience in which the app truly shines, and what makes it more than worth its $5 price tag. (As I write this, however, GoodReader is on sale for $1—an excellent value.) The other goodies the app offers are what makes this very useful app a very fun one, too.
[Jeff Merron is a freelance writer and editor living in North Carolina.]
This article was updated at 2 p.m. PT to reflect the fact that version 2.4 removed the USB file transfer feature at Apple's request. This change did not alter our rating of GoodReader.