Classics by Andrew Kaz and Phill Ryu received critical acclaim and tremendous buzz when it first appeared in the App Store last autumn. The book application was even featured on one of Apple's "There's an app for that" spots. Classics is still a terrific app with a gorgeous interface. But it was always hobbled somewhat by a small collection of books, and undercut further by infrequent updates from the developers.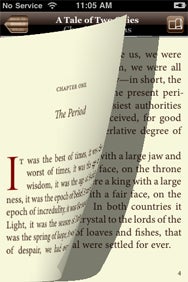 Enter CodingArt's A Masterpiece Collection, which has all of Classics' virtues and improves on at least two of its flaws. The app features 36 novels, plays, and short story collections, lovingly designed and duplicating a handful of the titles 23 currently on hand at Classics. More important, you can adjust the type size in Masterpiece. In Classics, the type is fixed, to the continued consternation of many readers.
In Masterpiece, you scroll down a stack of books, tap a book's spine to launch the title, and flip the pages as you would a real book. The app will automatically save your place, even if you change the type size (though Masterpiece is missing a cool red bookmark like the one in Classics). You can tap a button in the upper right corner to view the book's table of contents and skip chapters.
Drawbacks: The front page animation is choppy, and the app is slow to launch. But once you enter a book, the animation is silky smooth. Also, you need to exit the app to change the type size, which is limited to small, medium, and large.
All of these books are in the public domain, of course, so what Masterpiece and its competitors (don't forget the mighty Eucalyptus!) are selling is readability. Yes, you could read the Dickens corpus on any number of fine e-readers. The difference with Masterpiece is the developers have taken the time to refine and polish how these books are presented. The result is a luxurious reading experience at a bargain price.
If the developers at CodingArt and GizReader further refine the animation and are more diligent about adding new titles—given Classics' recent indolence, how could they not be?—A Masterpiece Collection could set a new standard for e-book readers on the iPhone.
[Ben Boychuk is a columnist and freelance writer in Rialto, Calif. Feel free to e-mail him.]