At a Glance
Expert's Rating
Pros
Intuitive package mockup and visualization tools
Vast type effects
Cons
Cons: No documentation or help files
Visualizer requires an Intel Mac with a higher-end graphics card
Visualizer is still imperfect
Our Verdict
TypeStyler is more than 20 years old, and to employ an overused but apt phrase, this version is definitely not your father's TypeStyler. The type-effects application has been on hiatus for about seven years, but has now returned with a new version designed for the latest Mac operating systems.
You may remember TypeStyler as a font utility that facilitated an easy way to twist and distort type, while maintaining its editability. TypeStyler still does that, but its developers have dramatically expanded its feature set to make it uniquely valuable for designing packages, creating spinning graphics, and laying out single-page documents such as flyers, ads, sell sheets, and invitations. The program's ease of use and advanced creative features make it valuable for all designers and especially for those who are still learning the craft.
Type effects
First and foremost, TypeStyler lets you create impressive text effects. Nothing will freeze your creativity like staring at a blank page with hundreds of tool options. Thankfully, TypeStyler has dozens of pre-built styles that you can instantly apply to your text, and then adjust in dozens of ways. It also has more than 100 pre-built logo designs that you can use as starting points for your projects.
For example, you can begin with a puffy gel type effect, fill it with a photo (or photos), change the hue and scale of the gel effect, and add several kinds of drop shadows: Drop, Cast, Block, or Zoom. You can move the drop shadow around by simply holding down the Option key and dragging it. You can stroke the text outline with colors, blends, jellies, or even an image.
The text remains editable, so you can change the words or choose a different font with the effects applied to the new text. If you've chosen a swoop or twist effect (for example), you can choose a different kind of shape distortion, or edit the shape with standard Bézier anchor points and handles. And unlike previous versions, you can use multiple fonts in a single text box.
Once you've settled on an appearance that you like, you can break the letters apart to drag them around, or edit their individual paths. This is a great way to get your main look and shape, and then customize individual letters for a logo.
Page Layout
TypeStyler now include rulers, guides, and multiple text and picture containers, making it suitable for single-page layouts. It even includes more than 100 templates as starting points. TypeStyler places each object on its own layer with adjustable visibility and opacity. The Object Palette also provides a quick way to select and edit one object or lock it.
The program includes dozens of useful shapes, which are editable. You can also pluck a glyph from any active font, and edit it as a shape in TypeStyler. Shapes can be filled with blends or images, and in many ways. For example, you can tile images by mirroring them inside the shape or by rotating them around a central point, for a unique kaleidoscopic effect. You can insert images by dragging them from TypeStyler's handy Media Browser, which automatically shows all photos in your iPhoto library, along with images in any folder you choose.
One of the features I enjoy the most is the Shape Designer. In particular, the Star Designer lets you begin with a standard star shape, and then by dragging sliders you can create unusual (yet useful) shapes that remain editable after applying effects to them. Other starting shapes include rounded rectangles and ovals, polygons, and arcs. By simply click-holding on the Shapes icon in TypeStyler's toolbar, you get variations of standard shapes to customize at will.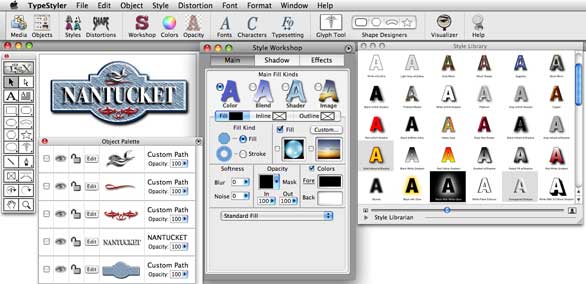 Packaging
TypeStyler now includes an impressive collection of 3D shapes to which you can apply your own artwork: Plane, Disc, Box, Bag, Sphere, Cylinder, Cone, Torus (doughnut), Teapot, Can, Bottle, Jar, and Orbit. This feature in itself may justify its purchase for package designers. Not only can you wrap your artwork around these shapes, you can rotate them in real time, in 3D space, and then take a snapshot at any angle. The artwork can be created in TypeStyler or imported in any common image file format.
After you apply your artwork or label to a shape, you can adjust the shape's opacity and choose a material such as plastic, metal, or glass. You can apply up to up to six layers of objects to a shape, with adjustable opacity, size, and position.
To assist professional graphic designers who use Adobe products, TypeStyler lets you save your creations as layered native Photoshop or Illustrator files, including transparency, to include or adjust in those applications. Or, you can simply export your design as an image at any resolution, or as a print-ready PDF. You can also print directly from TypeStyler with all the necessary fold and cut lines included to construct a physical mockup of the chosen shape. If the package is too large for your printer, TypeStyler can tile the pages for you, with appropriate overlaps.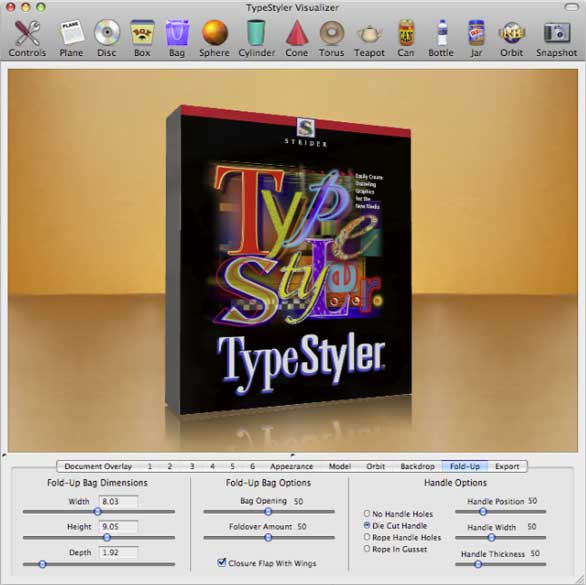 3D Animations
Within the Visualizer is an Orbit feature that lets you export animations of your artwork spinning around several globe shapes, with control over the spin rate and size. Presets permeate every aspect of TypeStyler, and Orbit is no exception—the Sphere shape includes a baseball, soccer ball, and beach ball that you can use for your animation. If that's not enough, you can even overlay digital video onto the globe, including live video from your iSight or another camera, or from a movie file. From there, you can export your animation as a QuickTime movie, with control over frame rate. This feature is tremendously valuable for creating introductions to presentations, DVD menus, or your own TV shows. You can also export the movie to any FireWire camcorder.
All 3D models can be placed against a collection of impressive backdrops, with perspective effects. Backdrop presets include Bronze Floor, Theater Stage with Lighting, Red Nebula, Cathedral Panorama, iSight Camera, Movie, your picture(s), and Quartz (Raindrops). You can even mix two backgrounds. A second set of background presets includes Wood Floor, Stage Curtains, Sunset on the Water, City Lights Panorama, iSight Camera, movie, quartz (Clouds). The backdrop color, texture, shape, and other attributes are also editable.
Limitations
A number of the program's limitations are related to the Visualizer. For example, when switching applications, TypeStyler's 3D Visualizer window floats above the windows of some other applications to facilitate drag-and-drop. It's annoying but not deadly. Some of the 3D Visualizer's controls appear and are functional even when they cannot affect the current item, which can be confusing. Plus, the Visualizer is not available on PowerPC Macs or Intel Macs with integrated graphics cards.
At this writing, TypeStyler X has no Help files or written documentation, but I found the program's popup tool tips comprehensive enough to assist with most tasks. The developers promise to add how-to videos to the Website, as well as a manual in PDF format in the near future.
Macworld's buying advice
What impressed me most about the new TypeStyler X version 10.6.47 is the number of useful presets and visual previews it includes. In just about any mode, you can choose a preset, see a preview of it, and then customize the effect with sliders to see the result in real time. The breadth and depth of its typographic features and constant visual feedback make it perfectly suited for teaching many aspects of graphic design. Its packaging mockup capability should place TypeStyler into the toolkit of most graphic designers, and its 3D rotation features will be welcome for anyone who wants to spruce up a presentation, DVD menu, or video project.
[Jay J. Nelson is the editor and publisher of Design Tools Monthly, an executive summary of graphic design news.]