At one time it was possible to pass off a podcast created with the barest of tools—the microphone built into a MacBook or iMac and a free audio editing application. While some podcasts are still created that way (and succeed almost entirely because of the quality of their content rather than their less-than-pristine production) the world expects better sound from today's podcasts. To produce that better sound, a higher class of tools is necessary. That said, you don't need to bust your bank account to make a podcast with decent sound. Here are some tools we like and recommend.
Budget setup
You needn't spend hundreds of dollars to produce a podcast. With any Mac made in the last several years and a microphone, you're well on your way.
GarageBand is a quite capable application for creating podcasts. And it's free as part of the iLife suite with any new Mac. The current version of GarageBand, GarageBand '09 ( ), is a universal application and so can be run on an Intel or PowerPC Mac. GarageBand can slow down when it's packed with multiple tracks, so if you intend to create a podcast with eight or more tracks, you'll be happiest working on an Intel Mac with a Core 2 Duo processor or better.
The one piece of equipment that will make the most difference to the sound of your podcast is a microphone. The sound of the microphones built into a MacBook or iMac don't cut it. They pick up too much room noise and the recorded sound of a voice lacks fullness.
To cut back on expenses you'll want to get a USB microphone. With a USB mic, you don't need an audio interface. These microphones come in two varieties—headset and desktop microphones.
For the most part, inexpensive headsets don't sound very good. They're noisy and the mic is positioned so close to your mouth that sibilance (the lisping, hissing sound you get from the letter "s") and plosives (the popping sound a mic picks up when you utter the letter "b" or "p") are almost unavoidable. But there are exceptions. Plantronics' $60 .Audio 655 stereo USB headset produces good sound for the money and includes headphones as well as circuitry that helps eliminate background noise.
A decent USB desktop microphone can be had for $125 and less. Blue Microphones' $100 Snowball is popular with many podcasters and includes a stand and cable. Samson's $209 C03U USB Condenser microphone—like Blue's Snowball—features switchable omni, cardioid, and figure-8 pick-up patterns. Marshall Electronics' $220 MXL USB.007 is another good sounding USB microphone. All of these microphones can be found online for far less than their list prices. As I write this, Amazon.com, for example, sells the Snowball for $70, the C03U for $90, and the MXL USB.007 with stand, cable, and carrying case for $125.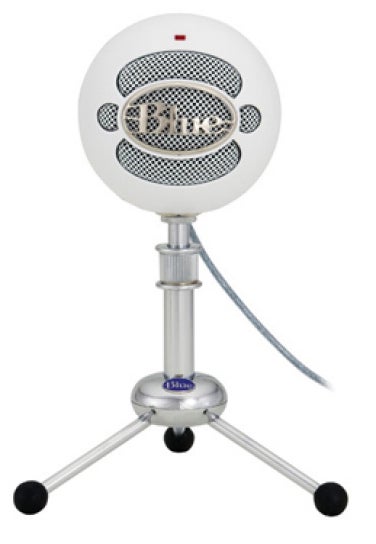 If your microphone doesn't come with a stand, you'll need to purchase one, as holding a microphone in front of you is fine for rock 'n' roll, but clumsy during a podcast. Desktop microphone stands can be found for under $10 online.
Increasingly, podcasters include remote interviews in their podcasts. And, in most cases, these interviews are conducted over the free Skype voice-over-IP (VOIP) service. One of the least expensive ways to capture both your voice and the voices of those participating via Skype is Ecamm Network's $20 Call Recorder. Once you install it, simply choose it from Skype's Window menu and click its large red Record button to begin recording. Call Recorder can record in a variety of audio formats and record Skype's video as well as audio.
Finally, if you find that the audio levels of your podcast are all over the map—loud here, soft there, and somewhere in the middle everywhere else—you should have a copy of The Conversations Network's free The Levelator. The Levelator performs various audio chores to even out the volume of spoken word audio files run through it (it's far less effective if the file also includes music). It supports only AIFF and WAV files, not MP3 or AAC.
Mid-priced setup
If you're using a budget setup you'll soon notice that your audio could be cleaner. Throwing money at your podcast can help.
For example, despite your best efforts, the occasional plosive gets through as well as table taps and cable jiggles, which are picked up by a microphone sitting on the desktop. To deal with plosives, get a pop filter such as Nady System's $22 MPF-6. A pop filter is comprised of a hoop filled with a mesh material that you place between your mouth and the microphone. The mesh takes the brunt of popped p's and b's, thus helping to eliminate plosives. The MPF-6 includes a flexible gooseneck boom and a clamp for attaching the MPF-6 to a microphone stand.
Speaking of microphone stands, you'll rid your sound of bumps and cable noise by getting the microphone off the table. And the way to do that is with a desktop microphone boom stand such as Heil Sound's $109 PL2T. The bottom of the stand sinks into a mount you clamp to the edge of a table or desk. The stand features a joint in the middle and adjustable microphone stem, allowing you to place an attached microphone in the perfect position.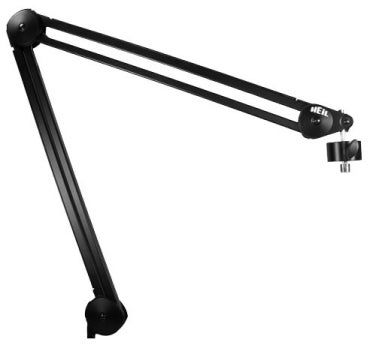 Your podcast may inherit noises that are not of your making—the sound of a interviewee's air conditioner or the rumble of a vacuum cleaner your mom insisted on running while you were recording. GarageBand's noise filtering capabilities are pretty limited and because they are, it helps to have a tool for cleaning up such extraneous sound. One such tool is Bias' $129 SoundSoap 2. This is a noise filtering utility that operates as a plug-in that you can call up from within GarageBand or as a standalone application. You feed SoundSoap a sample of the noise you want to eliminate and it then removes that noise to the best of its abilities (which are usually considerable). A less expensive option is eMedia's $40 iZotope Music & Speech Cleaner. Unlike SoundSoap 2, it's offered only as a standalone application, which means you must export any tracks you want to clean and then bring them back into GarageBand after Music & Speech Cleaner has had its way with them.
You can also upgrade your sound by purchasing a better microphone. At one time, USB microphones would drop off the radar at this point as their quality wasn't up to professional standards. That's no longer the case. I often use Marshall Electronics' $400 MXL USB.009 24-bit/96kHz condenser microphone for the Macworld Podcast and for narration tracks that I add to the Macworld Video episodes I create. In addition to offering great sound, the USB.009 includes Gain, Mix, and Headphone Volume knobs and a headphone port for monitoring directly through the microphone.
And, of course, you can purchase a "real" microphone with an XLR connector. Doing so not only provides you with far more options than you have with USB microphones, but a real microphone can grow with you—connect directly to an audio interface or mixer when you move to such gear—rather than forcing you to use a USB connection on your computer.
There are scads of microphones in the world. Shure's $188 classic rock 'n' roll microphone, the SM58, sounds great, is tough as nails, and can be had for around $100. But it's a microphone you want to be close to, to get the best results. If you need to outfit a studio with microphones for roundtable discussions, it's a reasonable way to go.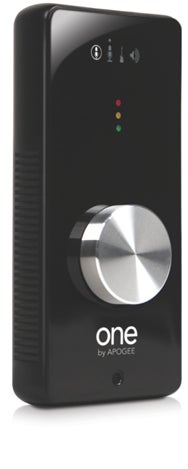 You'll need an audio interface to go with an XLR microphone and there are a variety of these as well. In my studio I use CEntrance's $150 MicPort Pro. This 24-bit/96kHz XLR-to-USB interface features an XLR connector on one end and a mini USB connector on the other. Just plug one end into your microphone, attach a USB cable to the other, and your Mac sees it as an audio source. It also features Gain and Volume knobs, a built-in headphone port, and phantom power for microphones that require power to do their jobs.
Another single-input option is Apogee's $249 One. It's a very clean single-input USB audio interface that offers input from a 1/4-inch or XLR source (via an included breakout cable). It also houses a quite decent-sounding internal microphone. It includes phantom power and the single large silver knob on its front can control either input gain or output volume. To toggle between input and output, just press on the knob.
The One isn't useful for multi-input recordings, such as you'd need for a roundtable discussion that requires many microphones. For some time we used M-Audio's $450 Fast Track Ultra USB interface, but it became unreliable. (Visits to M-Audio's forums showed us that our experience was not an isolated case.) We now use and like PreSonus' $500 FireStudio Project, a 24-bit/96kHz FireWire single rack-space audio interface that includes eight XLR inputs (with gain knobs for each input), two 1/4-inch inputs, S/PDIF digital input and output, phantom power, and a single headphone port. A beta version of the Universal Control software required to run the interface is compatible with Snow Leopard.

The big time
When budget isn't a big concern, you can do more. Upgrading your microphone is a good first step. Shure's $620 SM7B (available for around $350 online) and Heil's $325 PR 40 microphones are routinely found in radio stations and voiceover studios because they capture a rich sound and reject off-axis noise (meaning they'll nicely pick up what's in front of them but ignore sound off to the side). If you want to sound like the pros, you'll look at these and similar microphones.
If you're more comfortable with a headset, take a look at AKG's $649 HSC 271 professional headset. This headset uses the same headphones found in AKG's K 271 studio headphones and features a condenser microphone on a flexible arm. For the price, it should sound great and it does. Plus, the headphones are quite comfortable.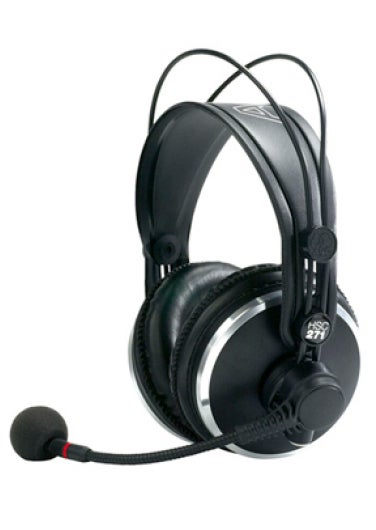 Although GarageBand and other multi-track audio editors include effects for enhancing your voice, you can do better with outboard gear. Symetrix's $700 528E Voice Processor is a single-rack unit that includes a mic preamp, de-esser, downward expander, compressor, three-band parametric EQ, and voice symmetry alignment. It's a classic bit of audio gear and, when used correctly, significantly improves the sound of anyone's voice.
Those with a more expansive budget and greater skills could also move to a fuller featured editing application. Apple makes just such an advanced multitrack audio editor that's great for podcasting— Soundtrack Pro ( ). Regrettably, it's sold only with Apple's $499 Logic Studio ( ) and $999 Final Cut Studio. If you have a copy of either of these Studio suites, it's worth firing up Soundtrack Pro and recording a podcast to see how you like its more advanced editing features.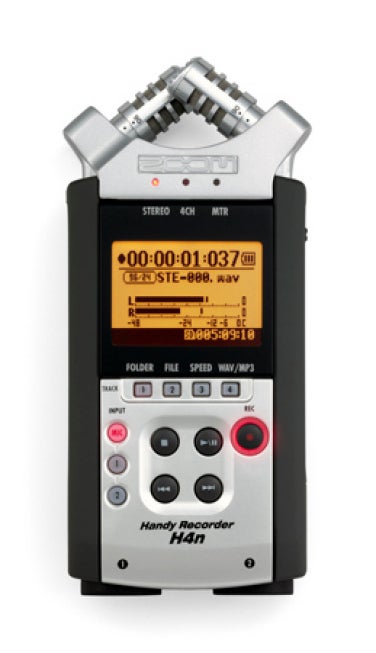 Digidesign's $2,500 003 Factory is a powerful 24-bit/96kHz FireWire hardware/software combo that includes four XLR inputs, four line inputs, phantom power, and eight motorized faders. While more at home in a music studio, it can easily do yeoman's work for the advanced podcaster. Note, however, that as I write this, the ProTools software remains incompatible with Snow Leopard.
If you're the kind of podcaster who likes to take his or her act on the road, a high-quality handheld recorder will make your job easier. Samson's $299 Zoom H4n Handy Recorder is such a recorder. This sturdy walkie-talkie-sized device captures uncompressed 24-bit/96kHz WAV files as well as MP3 audio to an SD card via a pair of sensitive built-in microphones. It also includes two XLR inputs. The H4n allows you to record up to four tracks simultaneously—two through the built-in mics and another two through mics connected to the XLR inputs.
Start talking
As should be evident, you can spend a lot or a little on podcasting tools. None of them will make you more charismatic, your jokes funnier, or your content more compelling. They will, however, help ensure that the comments you receive about it pertain only to its content and not its audio quality.