Toy Story Mania arrived at the App Store in October to largely rave reviews, with one of the more enthusiastic ones coming from yours truly. And why not? The game—inspired by a ride at Disney's theme parks—cleverly melds characters from the Toy Story universe with a carnival midway. The game's been a fixture on my iPhone since I finished testing it, so I was thrilled to see an update available for download earlier this week.
The trouble is, the latest Toy Story Mania makes a once great game unplayable.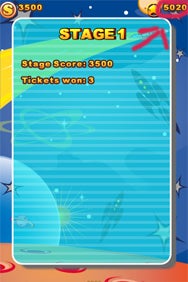 This was not the intended result, I think. (And if it was, I think I might have noticed "What's New: Game will now be unplayable!" in the release notes posted on the App Store.) Rather, Toy Story Mania 1.0.1 promises updated graphics—and indeed, the game's new look is pretty snazzy. Unfortunately, it also introduces a major bug: when you complete the first level of any of the carnival games and collect your prize tickets, the ticket counter will spin upward in perpetuity, never stopping until you give up and quit the app.
This bums me out for a couple of reasons. First off, I really enjoyed playing Toy Story Mania. It was usually my first choice for blowing off steam on my commute home from a long day of being ground down by the boot-heel of The Man. Secondly, if you've got a copy of the January 2010 issue of Macworld, you'll find a glowing review of the app from me. I feel badly for the poor readers who are going to pay $5 on my say-so, only to wind up with a buggy game. And I will feel badly for myself when those readers show up at my door with pitchforks and torches demanding mob justice.
We could, of course, count on the diligent folks at Walt Disney to realize their howling error and quickly push through a fix. Then again, the Customer Support page for Disney Interactive Studios isn't what what you might call "helpful," so if you're waiting for some worker bee within the vast Disney industrial complex to come to your aid, you may be in for a long, cold lonely winter. (In fairness to the developer, however, I see that as this article is published, a note has gone up on the Toy Story Mania page at the App Store acknowledging that there's a problem and that a fix is in the works.)
Still, if I want Toy Story Mania restored to its former glory now, I was going to have to take matters into my own hands and revert to an earlier version of the app. That may not help anyone who buys the flawed 1.0.1 version, but it will help users in the same boat as me—or anyone who downloads a lackluster update and longs to go back to the way things were.
The process for restoring an older version of an app isn't intuitive—it took some trial and error on my end—but it can be done. It requires you to have a versioned backup of your computer, but then I don't have to tell Macworld's savvy readership about the merits of Time Machine, do I?
Anyhow, the first step was to delete the app from my phone—I pressed and held on an icon until everything started jiggling, and then tapped the x of the offending application to remove it. (If you're feeling especially put out by the lackluster update, Apple offers you the opportunity to give the app a final rating. Enjoy that 1-star review, Disney!) With the app now off my phone, I also needed to remove it from iTunes. I clicked on Applications in the Source List, clicked on the app, and pressed the Delete key. iTunes asked me if I was sure I wanted to remove the selected application from my iTunes library—I was!—and then it asked if I wanted to move the selected application to the Trash or keep it in the Mobile Applications folder. I opted for the former, so that there's no trace of the app in iTunes -> Mobile Applications. Then I synced my iPhone, officially banishing the app to the land of wind and ghosts.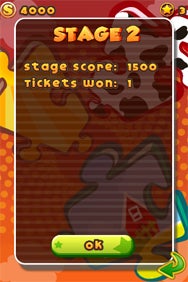 Now comes the part where we go back in time. While viewing my iTunes -> Mobile Applications folder in the Finder, I summoned Time Machine and journeyed back to last week—a simpler time in our nation's history when Toy Story Mania worked just fine. I highlighted the TS Mania 1.0.0.ipa file and clicked Restore, which deposited it back in the present-day version of that same folder. With my iPhone plugged in, I then used the Applications tab in iTunes to make sure the restored app was set to load back onto my iPhone. I pressed Sync again, and the old version of the app was back, as good as new—literally. (Not surprisingly, this process will treat the iPhone app as if you're installing it for the first time. For instance, all of my high scores and unlocked achievements are long gone in my restored Toy Story Mania. But considering that I can play the game again, it's not too steep a price to pay.)
That said, I wish there were an easier way to revert to older versions of iPhone apps for those times when developers don't get the updates quite right. Apple added improved application management features in this summer's iPhone 3.0 update; perhaps a better way to reinstall older versions could be on the to-do list for a future update.