At a Glance
Expert's Rating
Pros
Good picture and sound quality
Pause Live TV feature
Cons
Lacks some advanced controls
Awkward USB media playback interface
Our Verdict
The Vizio VT420M is one of Vizio's more expensive 42-inch, 1080p, 120Hz LCD HDTVs, but it's still a moderately priced set for its class and feature set. In most respects it's a better deal than the similarly priced Vizio SV420M ( ), since it has superior audio, a headphone jack, and support for multimedia playback on a USB thumb drive.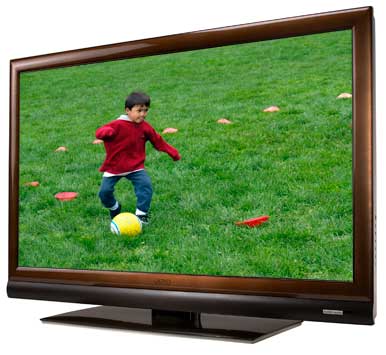 The trade-off appears to be in tweaking options (the VT420M has fewer than its sibling). But the VT420M delivers on a par with the SV420M where it really counts: The VT420M earned above-average scores in all of our image-quality tests. Judges gave it particularly high marks for brightness and contrast, and it also performed well in our demanding motion benchmarks and panning tests. The set's superior performance illustrates why we don't pay much attention to contrast-ratio figures: Vizio lists the VT420M as having a 20,000:1 contrast ratio, inferior to the 50,000:1 ratio of Vizio sets that performed similarly or worse in our tests.
In appearance, the set looks similar to those in Vizio's VL line, with an attractive faux-wood matte bezel rather than the more conventional shiny black frame that we see on most flat-screen sets. At the bottom, however, the VT420M has a metal bar, because the set houses four 10-watt speakers (other Vizios have only two speakers).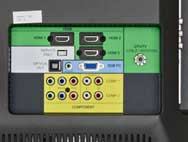 The extra speakers certainly pay off: The set's audio quality was noticeably superior to that of other Vizios. Its surround-sound emulation brought the street scene in the opening of the Blu-ray release of Phantom of the Opera to life, and it was capable of pumping out more volume, too.
The VT420M offers Vizio's usual full complement of easily accessible and clearly labeled inputs: three HDMI, two component, and one VGA (for computer hookup) on the back, plus an additional HDMI input and a combined composite/S-Video input on the side, along with a USB port (for flash drives with photo and music content) and a headphone jack.
Vizio provides its usual superb quick-setup poster, which provides guidance on the different inputs as well as detailed startup instructions. Powering on the set brings up a fairly typical on-screen wizard where you specify language preference, indicate whether you're in a retail or home environment, and state your TV source (antenna or cable), after which the channel tuner scan begins.
The main menu offers fewer options than we've seen in other Vizio sets. The VT420M has five video presets (Home, Movie, Vivid, Game, Custom); other Vizios provide additional presets for specific sports such as baseball and golf. The menu has no audio presets at all (other Vizios have several), somewhat surprising given the set's superior speaker configuration. However, you do get some advanced features; for example, Vizio's SRS TruVolume technology for leveling loudness across programs, commercials, and channels. Also present is Vizio's Smooth Motion technology for suppressing judder (a stuttering effect seen in some movies shown on TV), along with a demo mode that lets you see the effect of the technology on a split screen.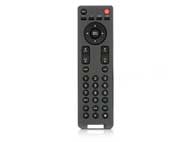 The multimedia playback feature, for files stored on a USB flash drive, isn't nearly as nice as the one included with the VL series (which offers transition effects for slideshows), but it gets the job done. The interface gives you separate menus for handling photos (JPEG only) and music (MP3 only); to set up a slideshow with music, you have to go into the music menu first and select Entertainment Mode. Vizio says that the set supports only FAT32-formated flash drives.
The VT420M also offers a picture-in-picture feature, which lets you view content from one input in a small screen on top of full-screen content from another input. (You cannot view two channels this way, however, because the set only has one tuner.)
The VT420M's remote is smallish and cannot be programmed to operate other home entertainment components. Vizio says, however, that the remote can control HDMI-connected devices that support the CEC (Consumer Electronics Control) protocol; according to the manual, the set will recognize these devices upon connection and rename the HDMI input. I wasn't able to test this feature.
Switching inputs with the remote is easy; you can press either the Input button or the buttons for specific input types, which cycle through the available connections. Though the remote has no backlight, volume and channel-change controls are on easy-to-locate rockers.
Vizio VT420M
| | |
| --- | --- |
| Performance | Good |
| Features | Very Good |
| Design | Very Good |
Scale = Superior, Very Good, Good, Fair, Poor
One unusual remote-controlled feature is called Pause Live TV; when you activate it by pressing the button on the bottom left with a pause symbol (two straight vertical lines), it pauses the show you're watching by initiating recording for up to 30 minutes. You need a 1GB FAT32-formatted USB flash drive for this function to work properly.
Vizio's printed manual, like the quick-start poster, is slick and copiously illustrated; both the manual and the quick-start guide are available on Vizio's site as PDFs.
Macworld's buying advice
Overall, Vizio's VT420M shapes up as a good buy for people who don't care about lots of advanced image controls, but simply want to get good image and sound quality without spending a fortune on an HDTV set or a separate audio system.
[Yardena Arar is a contributing editor for PC World.]