At a Glance
Expert's Rating
Pros
Great Internet and networking tools
Wide viewing angle
Terrific remote control
Cons
Power hog when on
Doesn't handle motion well
Our Verdict
Samsung PN50B650 isn't just a capable 50-inch plasma HDTV; its ethernet connection turns it into a multimedia machine, with access to online video, news and weather reports, and the photos and music stored on your computer. And with an estimated street price of $1200, it's a good bargain, too.
The PN50B650 performed well in our lab's image-quality tests. Aside from its results on a Wheel of Fortune clip, which I found a bit oversaturated, the set generally scored well for brightness, contrast, and color, with pleasing and natural-looking skin tones.
Unfortunately, the PN50B650 had problems with motion, doing particularly poorly on our diagonal-panning test, where it violently vibrated in what should have been a smooth pan over a still photo. That test intentionally forces an extreme situation (you're not likely to see anything so problematic in normal TV viewing) but it's a sign that other problems may crop up.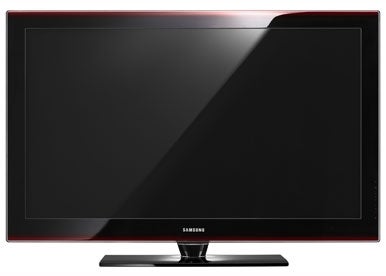 While viewing Blu-ray titles, we noticed slight vibration in a brick wall in chapter 7 of Mission: Impossible III, and moiré patterns in a Hong Kong building in a helicopter shot from chapter 9 of The Dark Knight. However good or bad it looks, the PN50B650's image quality won't degrade if you step over to the side or lie down on the floor—a great viewing angle is one of the advantages of a plasma HDTV. LCDs, by contrast, look pale and desaturated when you view them from an extreme angle.
On the other hand, plasmas are energy hogs. The Energy Star 3.0-compliant PN50B650 burns about 211 watts when in use, according to our lab tests. When "off," the Samsung sips a mere 0.1 watt, the lowest number that will register on our test equipment.
The PN50B650 really stands out when you plug it into your home network via the set's ethernet port. Thanks to its Internet connectivity, you can watch YouTube, browse photos on Flickr, or enjoy a wide selection of Yahoo widgets, including news, sports, and weather. You can follow Twitter feeds or play Texas Hold 'em. You can watch movie trailers on Yahoo Video or, if you're willing to shell out the money, see actual movies via pay-on-demand services from Amazon and Blockbuster.
Samsung's YouTube interface is a bit confusing at first (if pressing the remote's Right button doesn't do what you want, press Up and then Right); but once you get the hang of it, you'll find no serious trouble. It displays videos in a box large enough to watch comfortably but small enough to help hide YouTube's low resolution. The interface gives you an option to go full-screen, but as you might expect, most YouTube videos don't look great when viewed full-screen.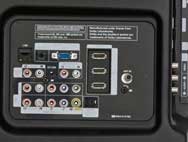 The ethernet connection also gives you access to media stored on any computer on your home network that's running DLNA server software. Plenty of DLNA server programs, many of them free, are available for Mac OS, Windows, and Linux. The PN50B650 comes with a Windows server program on CD.
Once your server is up and running, you simply press the remote's Media Player button to have the PN50B650 find your computer's photos, music, and videos. The photo slideshow is easy to start and use, but it provides no option to listen to music as you watch, say, your summer vacation clips.
You'll get that option if you plug a USB flash drive into the PN50B650's USB port and look at your media from there. On the other hand, your music choices are more limited with USB than with DLNA. The PN50B650 can play only MP3 files via the USB port. Over DLNA, it can also play any format that the server software supports.
In fact, the PN50B650 can show you multimedia with nothing plugged in except AC power: The TV's memory carries a small gallery of paintings, recipes, and other goodies. None of the items are worth making a big deal about, however.
This is a physically attractive set. The usual black frame has a unique, clear trim that shows a red highlight when you view it from certain angles (Samsung calls this effect "Touch of Color"). The television sits on a transparent pedestal.
You should have no trouble setting up the HDTV. The PN50B650's inputs are all easy to access, with most of them on the back, facing out (as opposed to down, as is the case on some HDTVs), near the left edge. The rest are mounted on the left side for even better access. The first time you turn the set on, it runs a wizard to help you set up the TV properly, making sure you have it adjusted for home (as opposed to store) use and scanning for channels.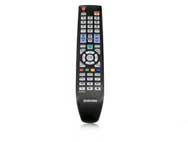 The ease of use continues with the on-screen menu, which is transparent (literally and figuratively), attractive, and readable, with good explanations at the bottom of the screen. The menu is extensive and thorough, but if you need something simpler, you can press the remote's Tool button for a smaller menu of items that you're likely to change frequently. And when you press the remote's Source button to change inputs (for instance, to go from your Blu-ray player to your DVR), the PN50B650's list places those inputs that actually have something plugged into them at the top for easier access.
The remote control is one of the best around, with large, easy-to-press buttons. To make them even easier to find in the dark, you can press the always-glowing backlight button to light up everything else.
Samsung PN50B650
| | |
| --- | --- |
| Performance | Good |
| Features | Superior |
| Design | Very Good |
Scale = Superior, Very Good, Good, Fair, Poor
When I cranked the PN50B650's volume all the way up, the audio was shatteringly loud and heavily distorted. The volume, if not the distortion, was a good sign; for any TV set, if the sound doesn't get uncomfortably loud at its top setting, it might not be loud enough at regular levels. At a comfortable 60 percent volume, I still heard some distortions, always on high notes. The SRS TruSurround didn't sound like true surround, but it was as good as you could reasonably expect from two speakers positioned in front, and better than the results from most TVs I've heard. To get true surround sound, as well as a powerful audio experience, you need a separate amplifier and speakers.
Macworld's buying advice
Samsung put a lot of great extras into the PN50B650, and the company is selling the set for a reasonable price. In this model, if you're not superfinicky about your audio and video quality, you get a versatile and fun HDTV with a big screen.
[Lincoln Spector is a contributing editor for PC World.]