At a Glance
Expert's Rating
Pros
Decent audio and video file support
Appealing price
Cons
No touchscreen
Difficult to navigate
Underwhelming design
No AAC support
Weak internal speaker
Missing features
Our Verdict
For people who want a portable media player but don't want to break the bank, ViewSonic offers the VPD400 MovieBook HD. It's more affordable than a $199 8GB iPod touch ( ), but you must be willing to make a few compromises. Unlike the iPod, the VPD400 MovieBook HD doesn't have a touchscreen or Wi-Fi, and its design isn't the slickest.
In appearance, the VPD400 is pretty minimalist. Available in black ( Best Current Price), white ( Best Current Price), or pink ( Best Current Price), the plastic player sports a 4.3-inch display that dominates its face. All of the playback and navigation controls—Play/Pause/Stop, Left/Esc, Right, Up, Down, Enter/Mode—sit at the top. The bottom spine houses an on/off switch. The left spine has a power-adapter port, a speaker, and a microSD slot (which expands on the unit's 8GB of internal storage). On the right edge are a 3.5mm headphone jack, an HDTV port, another speaker, a microphone, and a volume rocker.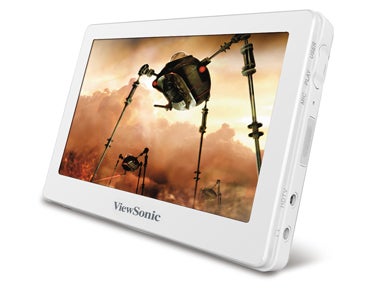 Navigating the interface is a bit tricky with the top hardware buttons. Rather than a four-way directional pad or a touchwheel, as you'd find on other nontouch portable media players, on this device each direction has its own dedicated button. The Left and Right buttons sit in the opposite corner from the Up and Down buttons, too. It took me a while to get the hang of moving through the VPD400's menu without having to tilt the player to figure out which buttons I was pressing. This is definitely a device you won't be able to control from your pocket or your bag—you need to see what you're doing.
The VPD400's user interface has six main categories—Settings, Video, Music, Photo, Voice Recorder, and EBook—represented by large icons laid out horizontally. Under Music, Video, and EBook, the menu breaks things down further according to where the content is stored (local media library, local disk, external disk, USB host), listing items vertically below each main category icon. Overall the layout is fairly straightforward; the biggest issue is the tedium involved in pressing the buttons over and over again to move where you want. It gets old fast.
As a music player, the VPD400 is reasonably flexible, supporting MP3, WMA, WAV, FLAC, APE, and OGG audio formats, but not AAC. In playback mode, you can show the song's lyrics, give the tune a star rating, or adjust the playback speed. You can also choose from a few different playback modes, such as Pop, Classical, or Rock. The player doesn't support album art, which is unfortunate since the VPD400's large screen would showcase it nicely.
Sound quality overall was pretty good, but it was better through my own higher-quality headphones (SkullCandy FMJ) than over the included earbuds. Sound piped through the external speakers was on the weak side, however, so you'll definitely want to use the player with headphones.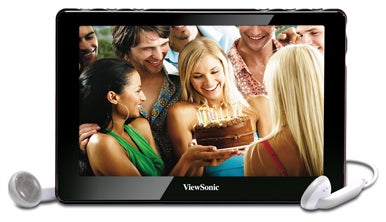 The VPD400 supports an even larger variety of video file types, including AVI, RM/RMVB, FLV, MP4, MOV, PMP, MPG, VOD, DAT, H.264, and H.263 formats. The VPD400 handled just about everything I threw at it, with the disappointing exception of some QuickTime MOV movie trailers. Quality wasn't always consistent, either. While colors were bright and accurate, the player seemed to have some trouble handling fast motion. A scene with ducks flying over a lake stuttered a bit, and I noted some slight pixelation. I also detected pixelation in scene transitions. The effect wasn't noticeable enough to completely detract from the viewing experience, but it was a little distracting.
As a photo viewer, voice recorder, and e-book reader, the VPD400 performs well, though it cut off some of the text on a few of my e-books. You can also hook your VPD400 up to your TV with the included audio-out and RGB composite-out cables. Video on my TV looked okay, but it was obvious that the footage came from a portable media player.
Although ViewSonic only lists Windows compatibility, the VPD400 mounts on your Mac desktop as a USB mass storage device, to which you can drag and drop your media files. File transfer speeds were rather slow, however.
Macworld's buying advice
The ViewSonic VPD400 MovieBook HD has a wallet-friendly price tag, but it omits a lot of features. While not everybody needs Wi-Fi or apps with their portable media player, a touchscreen is absolutely necessary on a device like this. The navigational buttons are frustrating to use, especially if you have a rather large media collection to scroll through. If you can tolerate this setup, the VPD400 is a perfectly capable, affordable player.
[Ginny Mies is a staff editor for PC World. Macworld senior editor Jonathan Seff contributed to this review.]