While classical music fans have hesitated getting into the download market, the elimination of DRM and the increased file bit rates now offer some good reasons to start exploring downloads. In addition, new ventures from classical labels and orchestras show that this is a vibrant part of the music download market. Here's a look at some of the many ways you can get classical music to listen on your Mac or your iPod.
In early December, Apple announced a huge iTunes Pass featuring most of the New York Philharmonic's 2009-2010 season. For $150, you can get more than 50 works, or more than 30 hours of music, updated regularly as it becomes available. The New York Philharmonic was one of the first major symphony orchestras to embrace digital distribution of concerts with the DG concert series, and it now considers that recording and distributing music by download is the norm. This set, which is an extension of its weekly radio broadcasts, allows listeners to get a wide range of music by world-class performers. The only downside is the price: while it comes to only about $5 per hour of music, there's an initial outlay of $150. In addition, this pass is currently only available on the U.S. iTunes Store, but the New York Philharmonic is hoping to extend the pass to other countries in the near future.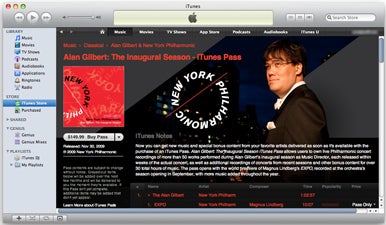 iTunes isn't the only game in town for downloading classical music, however. The classical music section of Amazon.com's download store is well-stocked, and eMusic has a broad selection of classical music as well. With the current popularity of digital downloads, a number of Websites selling classical music have sprung up, and many orchestras and labels—either on their own or in groups—have started selling music by download from their Websites.
Classical orchestras see downloads as a way of distributing recordings that they might not otherwise sell. Fewer orchestras are being recorded these days by major labels, as the cost of recording far outweighs the profits made from limited sales. The Philadelphia Orchestra, for example, sells a wide range of recordings as does the Boston Symphony Orchestra, with the latter selling lossless, high-resolution and surround-sound files in addition to MP3s.
Much of the classical music available for download can be found at "supermarket" type Websites, featuring a number of labels grouped together. For example, Classics Online, run by the Naxos label, sells 320 Kbps MP3 files from Naxos and the labels it distributes (Bis, Chandos, Haenssler, Da Capo, Marco Polo and others). Naxos plans to offer lossless FLAC files soon as well.
Higher-quality files
Speaking of FLAC, lossless file formats are becoming common on classical download sites, because many classical listeners won't buy MP3s. Sites like Passionato offer FLAC files together with MP3s (though not for all titles) for albums from major labels such as Deutsche Grammophon, EMI, and Virgin.
Audiophiles may be interested in high-resolution files as well, such as 24-bit, 96kHz downloads, which are available from a number of sites. Linn Records, a Scottish label, has downloads of what its call "studio masters" in a variety of sample rates, from its own label and others. Linn hopes to become one of the main hubs for such downloads. Music in higher-quality formats is more expensive than regular files: for example, one album that costs $11 in 320 Kbps MP3 format is $24 to $27 for studio masters (in different sample rates). HDtracks offers similar types of files from a wider variety of labels, at lower prices at the high end: from $12 in MP3, FLAC, or AIFF formats, to $18 for a 24-bit, 96kHz version of one album.
Those interested in "historic" recordings should check out Pristine Classical, a small label run by an Englishman living in a French village. He restores old recordings and sells them in MP3 and 16- or 24-bit FLAC format, as well as on CD, at prices based on format and length (downloads range from €1 to €16, for example). The site also offers its entire collection—around 600 recordings—as FLAC files shipped on a Western Digital My Book hard drive.
Buy directly from labels
Where the real future of classical downloads lies, though, is in the individual labels who offer downloads on their own Websites. Not only can these labels—many of whose music is available from other sources, such as iTunes and Amazon—sell directly to their customers, but in many cases they can offer out-of-print albums or special pricing. The Danish label Dacapo has started selling its wares by download, offering files in 320 Kbps MP3, FLAC, and WMA lossless formats. However, its prices are a bit higher than elsewhere: a recent single-disc album costs $15 in MP3 format and $17 in FLAC. A lot of these label sites are clunky and hard to navigate, or have limited search features—though for small labels, with limited catalogs, this is less of an issue.
Major labels aren't left out, though not many of them sell directly; they seem to prefer being well-positioned in supermarkets. Deutsche Grammophon sells its music directly, with a well-designed site and a large number of downloads, though not all of its catalog is available. The site is fine for searching, but not for browsing, as only the newest releases are easily visible.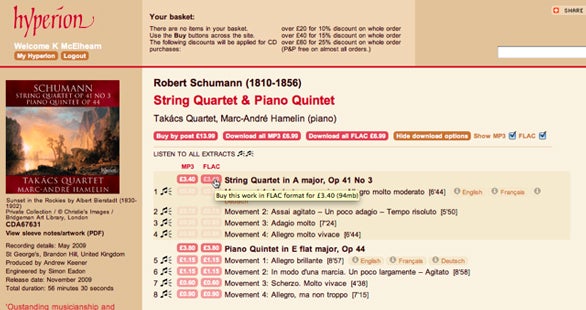 The best example of an effective download site is that of Hyperion Records, an independent British label whose recordings I have been purchasing for many years. Hyperion has figured out how to do downloads right. Among its more than 1800 releases, some 1500 are available as downloads. The site has an excellent search engine, where searches for artists, composers, works, or titles all provide relevant results. Next, when you find an album you want to buy, you can listen to generous (nearly 60-second) previews, and purchase it in MP3 (320 Kbps) or FLAC format for the same price (usually £7 or £8 per disc). You can purchase single tracks at a fair price, calculated according to their length; you can also purchase individual works, again priced fairly. Finally, Hyperion offers bulk discounts, with up to 30 percent off for purchases of music or pre-paid credits of £60 or more. Also, you can download liner notes for all recordings, often as PDF files, and large album art is just a click away. The only downside to this site—and to others—is that you download tracks one at a time (unless you use a download manager) and you have to add them to iTunes yourself. However, tagging information from Hyperion is excellent, so you'll never find anything labeled "untitled track 1," for example. I hope more labels follow Hyperion's example.
In the end, purchasing directly from record labels depends on your interest in the recordings they release. While many labels—such as Hyperion and Dacapo—also sell their music on iTunes and Amazon, in some cases the selection on the big-box retailers is more limited than what you can get directly. Classical music fans are often interested in specific labels for the type of music they release, the quality of their recordings, and the performers who record with them. In the future, many classical collectors will skip buying from "supermarket" type Websites and go directly to the source.
[Senior contributor Kirk McElhearn is a classical music fan, and writes about more than just Macs on his blog Kirkville.]