The Apple TV ( ) is a decent device if you just need to spice up your living room HDTV with your most recent iTunes content. But if you hunger for more media, browsing the Web from your couch, and viewing versions of your DVDs complete with menus and special features, Fire Core's updated aTV Flash 4.0.3 mod for Apple TV might be worth a look.
New in aTV Flash 4.0.3 is a major update to Couch Surfer Pro, the component that adds Safari to your Apple TV for browsing the Web on your big screen. Couch Surfer Pro now features full support for Remote ( ), Apple's official iPhone app that lets you control your Apple TV with an iPhone or iPod touch. Now you can control Safari on your Apple TV with your iPhone, complete with keyboard input.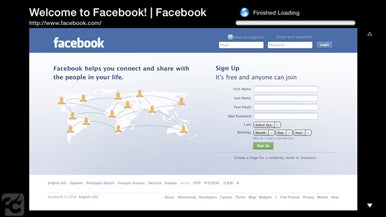 Also new in is a major improvement to its USB storage options, allowing an external USB hard drive to act as the main storage area to which iTunes can sync its media. This is definitely a big draw for me, as our library is nearly 800GB now, and I'm tired of having to boot up our Mac Pro just to watch episodes of The Venture Bros. or stream some music that we don't keep synced on the Apple TV. In fact, I'm tired altogether of having to constantly readjust our decision about what content gets to stay on the Apple TV.
Besides those two major improvements for, aTV Flash's bread and butter is basically to add a lot of the services and features that Apple for one reason or another doesn't seem interested in, such as the increasingly popular media streaming service Boxee, FTP access, and support for lots of alternative file formats such as AVI, DivX, WMV, OGG, and VOB. You can add a few other apps like Firefox and EyeTV as well.
Installing aTV Flash and enabling its various features is pretty simple, though Fire Core offers detailed installation instructions on its site if you need them. aTV Flash requires at least a Mac running OS X 10.4.9 or a PC running Windows XP and costs $50, with the option to purchase extra years of upgrades or even free upgrades for life. Those who are just interested in getting XBMC and Boxee on their Apple TVs can download the free ATV USB Creator instead.