Sony's Bravia KDL-52XBR9 HDTV presents clear, well-balanced images, and it also offers an astonishingly large selection of Internet-video options. On top of that, its comprehensive DLNA- and USB-based multimedia tools are not only easy to use but fun, too. High quality and extras go a long way in justifying the set's steep estimated street price.
In our lab's image-quality tests, the KDL-52XBR9 scored particularly high for brightness and contrast, expertly handling light, dark, and midrange areas within an image. It didn't perform quite as well with color; While the set did a respectable job, two judges complained of a slight green tint, although the effect wasn't as bad as it has been on some other models we've looked at recently. The TV lacked the primary color space adjustment needed to eliminate the problem, but we were able to reduce the green tint before testing. If you choose this model, you'll probably never be able to make the color look absolutely perfect.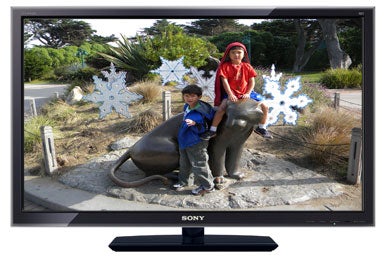 This 240Hz LCD also had some small issues with motion, but they were minor enough that not all of our judges noticed. Two judges saw a slight moiré pattern in a brick wall in chapter 7 of the Mission: Impossible III Blu-ray Disc. One also spotted judder in a panning shot from chapter 9 of The Dark Knight on Blu-ray. As you might expect from a 240Hz set, the KDL-52XBR9 did extremely well in our horizontal-pan test; it also performed reasonably well (producing only a slight judder) in our diagonal-pan test. Those results tell us that in actual use the KDL-52XBR9 should be able to handle most situations like a pro.
You won't have a problem bringing the KDL-52XBR9's volume to ear-splitting levels, either. When I turned up the volume as high as it would go, the set blasted extremely loud sound and very little distortion. With the volume at a more comfortable 60 percent, I found no discernable distortion at all. The sound was very good by TV standards, with an impressive dynamic range. The pseudo-surround effect sounded little like the real thing, however. To get real surround (or for that matter, truly excellent audio) you're still better off with a separate home theater sound system.
Sony includes a remarkably extensive collection of Internet news and video options with the KDL-52XBR9. Among them are Yahoo Widgets (items for weather, news, sports, finance, Twitter, and other services, marketed here as Bravia Widgets), Amazon and Yahoo movies on demand, Blip.TV, Sports Illustrated, CBS (mostly just clips but a few full episodes, too), a horror-movie channel called Fearnet, and, of course, Netflix and YouTube. Unfortunately, Sony's built-in YouTube user interface is as likely to frustrate as to entertain. Video searching requires tedious text entry via the remote and an unattractive and confusing on-screen form. Once you get the video you want, it defaults to playing in a frame that's too small for enjoyable watching. You can adjust the window size by pressing the remote's Select button (in the middle of the circle of arrows) and then pushing the Up and Down keys, but nothing on screen or in the manual tells you to do this.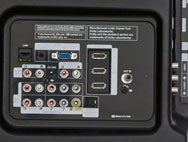 The KDL-52XBR9's ethernet connection also lets you hook the HDTV into your home network, allowing you to view photos, listen to music, and watch videos off any computer in the house running a DLNA server (there are plenty of other DLNA-server programs to choose from, many of them free for Mac, Windows, or Linux.) You can also plug a flash drive into the TV's USB port and view media that way.
Whether you use DLNA or USB, slideshow options include background music and some of the strangest transition effects I've ever seen, such as a virtual museum with your photos framed and mounted on the "walls." As for audio, the KDL-52XBR9 supports only MP3 natively; but when using DLNA, it can play any music format that the server supports.
The KDL-52XBR9 also comes with TV Guide On Screen, which lists and describes shows airing in the next 24 hours. But this feature comes at a price: With TV Guide On Screen enabled, the Energy Star 3.0-compliant KDL-52XBR9 draws a wasteful 16 watts when it's turned "off." To put that in perspective, if you watch an average of 2 hours' worth of TV per day, the KDL-52XBR9 will use more electricity when it's off than when it's on.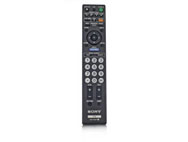 On the other hand, if you don't enable TV Guide On Screen, the KDL-52XBR9 sips less than a tenth of a watt—the smallest electric usage we can measure. According to our lab tests, it uses about 167 watts when turned on, which is better than the power consumption of most similar-size HDTVs we've tested.
You should have no trouble setting up the HDTV. The KDL-52XBR9's inputs (where you plug in your DVD player, game console, and so on) are all easy to reach, with most of them on the back, near the left edge, facing out (as opposed to down, as is the case on some TVs). A handful are mounted on the side for even quicker access. The first time you turn the HDTV on, a wizard helps you with the initial setup, making sure that the TV is adjusted for home or store use, and scanning for channels.
If you've used a PlayStation 3 or any other recent Sony media product, you'll be familiar with the standard Sony "cross bar" menu; if not, the arrangement takes a little getting used to. The menus include useful and clear explanations of the settings and features. Press the remote's Options button, and you'll see a smaller, easier-to-handle menu of settings that you're likely to change most frequently, including picture and sound adjustments. The KDL-52XBR9 makes changing inputs (such as going from a Blu-ray player to a DVR) easy, as the on-screen Input menu grays out any input that doesn't have something plugged into it.
However, Sony occasionally hides features and settings, and doesn't always make the best option clear. Consider, for instance, the problem with resizing the YouTube window discussed above.
Bravia KDL-52XBR9
| | |
| --- | --- |
| Performance | Good |
| Features | Superior |
| Design | Good |
Scale = Superior, Very Good, Good, Fair, Poor
The remote control is long and thin, with the number buttons placed right where your thumb can easily press them. In contrast, the circle of arrow buttons and the volume and channel controls are badly placed and difficult to reach—it's as if Sony assumes that people change channels by entering numbers, never by surfing. The remote is neither backlit nor programmable.
Macworld's buying advice
Of course, you judge a television by how it performs when it's on. Despite its tendency to favor green, the Bravia KDL-52XBR9 is a very good choice, especially if you want to sit in an easy chair and watch the Internet on a 52-inch HDTV screen.
[Lincoln Spector is a contributing editor for PC World.]